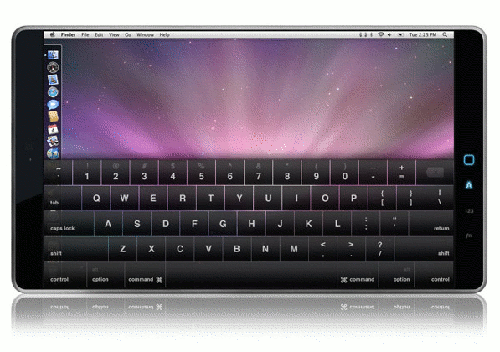 Image source: Mashable
In January of 2009 I wrote two brief entries, "On Content and Form: 2009 Forecast" and "Further Reflections on Content and Form in 2009," which evaluated the difficulty that developers are encountering with the constant change of delivery devices.  Since then, there appears to be more interest in having constant access to information than on the devices themselves. I also noted the possibility that consumers may develop fetishes for hybrid devices like the iPhone.
Yet, as we move on to the second half of 2009, the actual subject of analysis is becoming more apparent: the screen.  It is the aesthetics of the screen, a vessel of simulation, of make believe, of simulacra proper that is turning out to be the recurring device in all media.  From the early days of film on to television, and currently the computer and its supplementary devices, including GPS systems, text readers such as the kindle, portable DVD players, and of course the iPhone, the screen has played a defining role in the ongoing expansion of global communication.
The screen's never-ending evolution, then, is what needs to be considered carefully in order to understand how media is changing with the growth of network culture.  The challenge in this acknowledgment is that our familiar window for entertainment and communication, while always a comfortable rectangular format of malleable dimensions, has no actual stable material form; it keeps shifting at an ever increasing speed; and because of media's dependency on the screen, developers need to change their approach to product development.  This also means that content providers need to rethink their relation to media delivery, whether this be print, or online.
(more…)