Note: The following article is in Spanish only. It includes some of my own theories on Remix.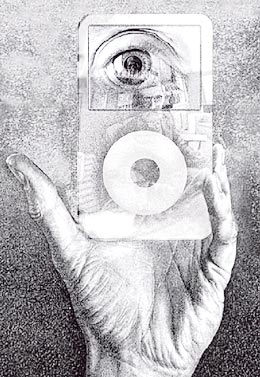 Image: TRANSFORMACIONES. La imagen de Escher, "remixada" con técnicas del siglo XXI.
Text and image source: Clarin.com
January 20, 2007
CULTURA : UNA PRACTICA QUE INICIARON LOS DJ'S Y SE EXTENDIO EN LA MUSICA
ESPECIAL PARA CLARIN.
Cuando en 1968 los Beatles volvieron de la India con una gran cantidad de canciones bajo el brazo y editaron el archiconocido Álbum Blanco, no imaginaron, ni en sus sueños más psicodélicos, que casi 40 años después ese trabajo sería el germen de otro no menos memorable.
Pero en 2004, el Dj. Brian Burton (popularmente conocido bajo el alias de Danger Mouse) parió El Álbum Gris, una obra conceptual en la cual se fundía la música del "álbum blanco" de los Beatles con la voz y letra del "álbum negro" del rapero Jay- Z. Para la anécdota quedará que, demanda de las discográficas mediante, el trabajo fue retirado de circulación y a las pocas semanas se convertía en un hito, bajado ilegalmente de la red por más de 100.000 personas.
Lo cierto es que la travesura expuso los elementos vitales del remix o remezcla: partir de algo que ya ha sido creado y combinarlo para crear algo nuevo. Algo que los artistas y analistas consideran vital para entender la obra de arte contemporánea.
Lo nuevo es que cada vez son más los artistas que se apropiaron de esta práctica y hacen del remix una de las más modernas tendencias de las bellas artes.
Una de las últimas y más poderosas convocatorias la registró el sitio Worth1000 (www.worth1000.com), que organizó un concurso de remezcla basado en los dibujos del gran Maurits Cornelis Escher. Mediante herramientas gráficas, los concursantes han desafiado las ya geniales concepciones de Escher y les han dado, en algunos casos, toques contemporáneos. Ahí está entonces el autorretrato de la Mano con esfera reflectante (1935, litografía), que el artista M.J. Haylor ha devuelto al mundo como Mano con Ipod reflectante. En su obra Haylor, que no deja de citar la gran obra del maestro holandés, utiliza su creatividad, su talento y… un andamiaje propio de Internet. Y claro, ya habrá una legión de creadores dispuestos a remixar el dibujo de Haylor.
Para reafirmar el fenómeno está Eduardo Navas —artista, historiador y escritor salvadoreño especializado en nuevos medios y radicado en California— que no pierde pisada a las manifestaciones de este fenómeno: "La actividad de tomar material preexistente para combinarlo en nuevas formas se ha extendido a través de la cultura, incluyendo las artes visuales y hoy en día juega un rol vital en la comunicación de masas".
Navas fue Dj durante 10 años y desde entonces se ha dedicado a investigar y teorizar la cultura del remix entendida como "acción y reflexión". Y aclarando: acción porque el remix se trata de algo dinámico, "similitudes o meras repeticiones no son remix" y reflexión porque "el remix debe realizarse de manera deconstructiva-reflexiva, es decir, tratar de que se reconozca el material original" para no dar lugar al plagio.
Para entender los orígenes del fenómeno el artista menciona aspectos del dadaísmo, movimiento que, a comienzos del siglo XX, ya jugaba con esta idea del remix, y hasta sugiere que vale la pena darse una vueltita hasta las inmediaciones sanitarias de Duchamp, madre omnipresente que con su revisitado orinal dejó en claro bien temprano en la historia del arte contemporáneo que un elemento pre-existente bien puede constituirse en parte o todo de una obra de arte. Porque así como Duchamp tomó un mingitorio y lo transformó en arte, "el DJ tomó conceptualmente el vinilo, quebrándolo y destruyéndolo para transformarlo activamente".
Con él coincide Brian Mackern, uno de los principales exponentes del arte digital, quien actualmente vive en Montevideo. Para el artista, "lo interesante es que éstas manifestaciones que estaban al alcance de unos pocos, ahora, y con el advenimiento de 'lo digital' y sobre todo de Internet, se han vuelto sumamente visibles". Su último trabajo explora la idea del remix y se llama living stereo. En Internet: http://no-content.net/lst/. Además del álbum gris, Mackern cita a la estadounidense Sherrie Levine, que en los años ochenta "refotografió" una serie de imágenes tomadas por Edward Weston en la década de los treinta y los cuarenta.
El remix se instala en todos los ámbitos, discusiones legales aparte. Quizás en las artes visuales, las cosas han salido bien gracias a las tecnologías digitales apoyadas por la práctica del cortar/copiar y pegar, algo que, nobleza obliga, todos hemos hecho alguna vez.
Lascia un commento
You must be logged in to post a comment.