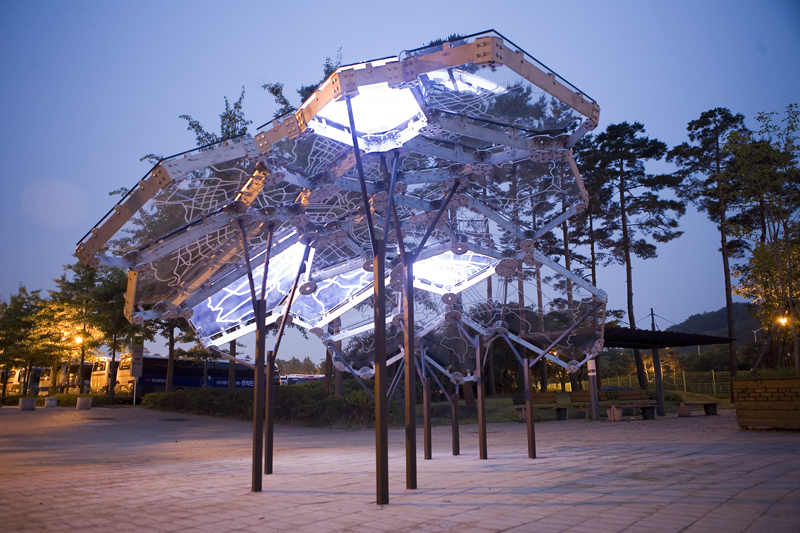 Living Light, designed by Soo-in Yang and David Benjamin
Image source: livinglightseoul.net/
This text was commissioned for the publication Future Exhibitions, Swedish Traveling Exhibitions, published in 2010. It is released as the third and last in a series of texts that were written during and after my residency for The  Swedish Traveling Exhibitions.
For the other texts, see:
1) When the Action Leaves the Museum: New Approaches to the Exhibition as a Tool of Communication.
2) Code Switching: Artists and Curators in Networked Culture
Note: This text is a brief analysis of the way exhibitions and art works were being redefined in 2010 and before by  the  growing ubiquity of interactive technology in art production and its presentation in art centers as well as public spaces.  Even though culture has experienced quite a few changes in social media and other forms of communication since this essay was originally written, the text is released online as a complement to its other forms of publication because it holds a critical position that is not contingent upon specific trends, but on long standing questions of art production.
Exhibitions at the beginning of the twenty-first century are becoming spaces of flux.  The usual static exhibition and installation with labels and proper cues for visitors to keep a safe distance—which is likely the default image that comes to mind when one thinks of museums and other public institutions—is being replaced by displays and installations that encourage some form of visitor interaction.  Interactivity can take place directly with the object, an online resource, or downloadable virtual tours, often with the aim not only to have an aesthetic experience but also to inform visitors on some issue.  While this new approach is certainly exciting, it also places real challenges for institutions in the arts and other fields on how to organize exhibitions that resonate with the contemporary audience.  In this regard, exhibitions tend to borrow from new forms of interaction often linked to artistic expression to highlight and bring audience's attention to relevant information.  In what follows some of the variables that make exhibitions spaces of flux that increasingly rely on creative and even artistic solutions for engaging the audience will be discussed primarily in relation to art but will extend to other fields such as architecture, design, and the public space.
Interactive Participation Redefining the Public Space
Interactivity at the beginning of the twenty-first century is ubiquitous to the point that it may become meaningless. Nevertheless, generally the term can be defined as communication driven and defined by user feedback.  This feedback can take many forms publicly or privately, online or offline. But it is online where both private and public spaces are put to the test, as it is here where feedback is pushed to its limit through constant updates via social media spaces such as Facebook, MySpace, and Twitter.  The result is that constant feedback once it becomes part of people's daily routine turns physical space into an extension of the network, and thus interactivity becomes a default state of communication.
Living Light, designed by Soo-in Yang and David Benjamin[1] is an architectural example of how interactivity and its dependence on the network redefine a public space.  The outdoor permanent public installation located in the World Cup Stadium's Peace Park in Seoul, Korea is a building façade that offers constant updates about local air quality by lighting certain neighborhoods of the city's map integral to the façade's design.[2] The innovation of the public work is that locals can text the installation to request information about air quality. And in this way, people not only experience architecture as a networked device, but also as an informational resource.
Part of a set of projects under the concept of Visual Voltage at The Interactive Institute.  Read more about the project.
This form of feedback is also found in the private space with devices such as lamps that change shape based on energy consumption.  Flower Lamp, designed by the Project Aware,[3] modifies its form according to the amount of energy consumed in a home. When its metallic petals open, it means that less energy is consumed; the opposite takes place when they close.  I saw the lamp close its petals during my visit to the Interactive Institute, in Stockholm, Sweden during the month of November of 2009, and immediately wondered what triggered the change.  This type of interactivity is also a type of constant update in that the lamp is designed to provide up-to-date information on energy consumption, albeit in abstract fashion. Nevertheless, the lamp serves a similar purpose as the Living Light public installation: both provide feedback on change of the environment, and both make evident how the concept of constant updating as understood in social media has become embedded in physical space, whether it be private or public.
Interactive Participation Redefining the Exhibiting Space
Interactivity as a feedback process, once adopted by exhibiting institutions of all types to engage the public, changes what exhibitions themselves are. This shift consequently leads to a new attitude in the arts and other creative fields such as architecture and design.  Marc Garrett, Co-Director of HTTP Gallery in London, England opines on this issue, "Art is now more likely to be considered as a project, rather than just based around an object. This is because much of contemporary art is now based around what comes out of the process of collaboration." From this point of view, both Living Light and Flower Lamp are legitimated by information flow in the form of constant updating.  At this point, aesthetics become part of the public sphere according to the possibilities network communication and the pervasiveness of feedback provide.  Garrett also shares his opinion on how art relates to this issue: "Art has also become a networked activity, experienced in a gallery setting, in the streets, on and via the Internet; much of it at the same time."
Sean Dockray, Co-director of Telic, and the Public School, based in Los Angeles, also comments on collaboration and process in new media and its relation to the concept of the public:  "New media produces new spaces for circulation of concepts and ideas, texts and images;" to which he adds, "Although these spaces are never absent from influence and interest, I do think there's room for invention and disagreement and at the beginning. [sic] There is opportunity to recast one's self, to rearrange existing territories, out in an open with others."
Dockray implicitly refers to the institutional politics that are part of art practice. In relation to this, Gustavo Romano, an artist and curator based in Buenos Aires, Argentina, and quite active in various cities throughout Spain elaborates on the possibilities and limitations of new media as a field where the questioning of the object of art gives way to new forms of production: "I believe that artists who have been working through the dematerialization of the object of art as a process that derives from the avant-garde, consider new media a powerful tool.  On the other hand, those who are still preoccupied with the production of objects see new media devices as an opportunity of innovation and spectacularity.  It is here where the art market begins to have an influence."
The avant-garde's critical position, historically, has in part informed artists' drive to break out of the norm; and currently plays a role in new media production in relation to interactivity.  On the other hand, the second group of artists that Romano refers to, which according to him view new media devices as forms of innovation, are the ones likely to contribute to new interactive design such as Living Light and Flower Lamp.  Such camp, in my view, is not necessarily preoccupied with critical issues but rather with applying principles of usability to present information, albeit with a safe distance.  Both projects make people aware of energy consumption in similar abstract fashion, allowing them to think about saving energy while detached from the actual politics.  Both projects provide a soothing and even beautiful experience based on serious environmental problems.  The two camps described by Romano as part of contemporary art practice, then, play a crucial role in creating spaces in which to test exhibition devices with the goal to bring the audience's attention to relevant information by means of interactive forms of communication.
Rethinking the Exhibiting and Public Space
Art used as an informational device is found in the exhibition RETHINK: Contemporary Art and Climate Change, which opened in Copenhagen to complement the United Nations Summit on global warming in October and November of 2009.[4]  The premise of the exhibition is to inform the viewer through works of art, by international and Scandinavian artists, about the seriousness of changes in the environment.
Selected projects include The New Tribe, 2009 by Parfyme (DK), which is an online voting and documentation event.  The online community is encouraged to vote on how a potential futuristic new tribe as defined by Parfyme should live; with implementation of social media tools, the project aims to find constructive responses to environmental issues.  Planetary Pledge Pyramide, 2009 by The Planetary Speak (UK), is an online game developed on a pyramid scheme to discuss awareness about the environment.  The idea is to invite five friends at a time, so that, theoretically, in 13 weeks all of earth's population would be reached. And Hyperkinetic Kayak, 2009 by Jette Gejl Kristensen (DK) consists of an immersive interface that enables the gallery visitor to sit and row on a Kayak while in front of a 3-D simulated projection of the iced sea and weather in Greenland, which is updated regularly with information for the country's Geological Institute.
The idea in these and other selected works is to engage and inform the viewer about some issue of climate change. All three projects demonstrate that the curatorial interest is the same as that of Living Light and Flower Lamp: to educate the viewer. Furthermore, the artists that participate in Rethink, actually appear to embrace both areas that Romano discusses: that of contemporary art as, both, a tool for criticality and innovation.  In essence, the works are aestheticized vehicles designed to educate the gallery visitor.
Rethinking Collaboration as Process in the Exhibiting and Public Space
Based on the projects so far assessed, it appears that architecture, art, and design with the support of new media technology can become vehicles for education.  The three fields are being redefined in the public sphere in large part according to how technology they implement is also used beyond their milieus.  For art, specifically, as is evident in the Rethink exhibition, it has to do with the fact that the work is produced with tools designed for multiple uses.  Karla Villegas, Artistic Director of Transitio_MX 2009 elaborates on the possible reason why this appears to be possible: "Aesthetics is no longer exclusive to art; art is certainly part of it, but aesthetics covers a vast horizon, in which other manifestations that are not artistic but of diverse order and which many times are related with technology come about."
On the other hand, art itself has always spilled outside of the gallery, to embed itself in the public sphere, as Dockray, again, elaborates: "After putting on a few exhibitions, I became more aware of how art and exhibitions of art function publicly. By this, I mean that beyond notions of commercial art or state-owned property, we encounter the work through its exhibition as well as its circulation through newspapers, rumor, history, postcards, the internet, and so on."
This spillage as explained by Dockray has always been what makes art relevant in culture at large.  With the rise of social media, how this takes place inevitably also changes how art is perceived by people beyond the art community, and in turn pushes public institutions to consider how this shift becomes part of their own missions.
Another aspect of the current state of production in the arts that is complementary of constant updating and interactivity is the growing interest in organizing workshops.  This activity is actually a key element for The Public School, founded by Dockray. The Public School is based in Los Angeles, but also extends some of its activities byway of decentralized collaboration to other cities including, Berlin, New York, and Paris. Classes are proposed and voted on by its members; the selected classes are then organized as workshops.  Dockray elaborates on bringing people together in this format: "I understand the school as a public art work – it functions publicly and it is produced publicly.  It certainly uses the internet as both inspiration and as a mechanism for collectively articulating a curriculum and bringing people together to inhabit it."
In a time when networked culture is pervasive, the workshop is vital to spaces invested in engaging the audience beyond the usual art exhibition.  Medialab Prado in Madrid combines these elements, as Marcos García, Program Manager, explains:  "… if we focus on the characteristics of the Medialab, we can say that it is a hybrid between a laboratory, a workshop, and exhibition space."  It is in spaces such as Medialab Prado where ideas that lead to projects based on constant updating and interactivity such as Living Light and Flower Lamp are often explored.  I personally experienced this process in June 2008 as part of Interactivos?, where artists and software developers created diverse interactive works that were later exhibited in the same workshop space.[5]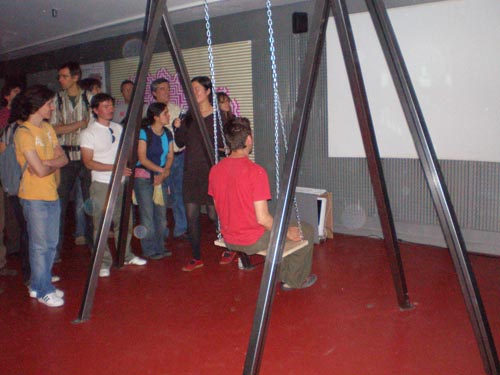 Image: "Stage Fright" by Nova Jiang.  Read more about the project.
Many of the projects were developed mainly with movement sensors.  Stage Fright by Nova Jiang, for example, consists of a projected video, which changes according to the back and forth movement of the gallery visitor riding a swing. Expanded Eye by Anaisa Franco multiplies the projected eye of the viewer as he or she blinks. 360 Score by Philippe Chatelain detects where the visitor stands in relation to a wall drawing, to then produce abstract sound; and in similar fashion Biophionitos by Paola Guimerans, Horacio González, and Igor González detects the position of the viewer to trigger the speed of a Zoetrope wheel inside a wooden box.  These projects were designed for display in a gallery setting, but not all projects followed this logic.  Spiral Drawing by Esther Polak unlike the other projects, is optimized to sense sunlight in order to create drawings in form of a spiral. Polak places paper on the floor so that the sand dropped by the robot can be used to create a more permanent composition from the residue.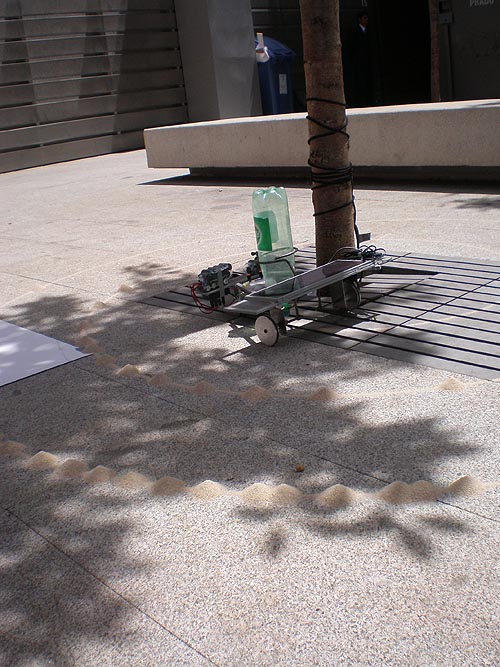 "Spiral Drawing" by Esther Polak. Read more about the project.
What is worth noting here is that all the projects, except for Polak's, were designed to include the viewer in the completion of the work based on some form of feedback. At this moment one could ask, why this obsession with constantly triggering the work of art to move, often as an acknowledgment of the user's presence? Can such interaction lead to anything else?  The answer to these questions are found in more developed projects such as Living Light and Flower Lamp, which are not only aesthetically pleasing, but also aim to educate the people moving in the environment about energy consumption. Thus, a transition takes place here and art has the option of no longer being just a medium for critical reflection, but an actual functional delivery system that can engage people in real life situations.
The Emerging Framework of the Exhibiting Space as Part of the Public Network

Gabrielle Wyrick, Education Curator at the Museum of Contemporary Art San Diego (MCASD) explains how the museum engages its audience through social media, workshops and community development, very much along the lines so far described. The museum utilizes social software, such as Facebook and Flickr to extend programming beyond the museum's physical location.  For 2010, they plan to introduce iPhone applications specifically written for a generation of visitors coming of age with the Internet.
Video of Beatrix*Jar's six minute improvisational performance, one of many events that have taken place at the MCASD as part of their public programs. Read more about the project.
Wyrick explains that the MCASD, which consists of two locations, one in downtown San Diego and the other in La Jolla, will be  "differentiating the programming/exhibitions in [the] two spaces. La Jolla will still feature exhibitions of contemporary art, while DT will focus on new commissions and never before seen work for the region. The MCASD as a whole will continue to build and care for its collection, which will include both already produced work and new commissions."  In support of this change, the museum recently received a grant from the James Irvine Foundation to develop a lab-like setting.  The official press release states: "Key components of the initiative are artist involvement and increased technology and multimedia activity applied throughout the Museum. The labFORUM will be an innovation incubator, challenging and shifting long-held assumptions about how a contemporary art museum operates, and changing the ways in which MCASD engages with audiences and members."
Wyrick also adds that the Downtown branch will function more like a workshop and open studio, and that part of the new programming focuses on revealing the creative artistic process. In this sense MCASD develops an interdisciplinary framework that is similar to that of Medialab Prado in Madrid, as well as The Public School in Los Angeles.  It appears, then, that the many elements explored in art and alternative spaces invested in media culture are finding their way into more established institutions.
What all these examples demonstrate is that artists may not only be expected to function as ethnographers as Hal Foster discussed in the nineties,[6] but also as educators.  If the artist critique is to be valid, it appears that it is no longer enough to expose some conflict in culture, but to engage viewers with such conflict in some proactive fashion: to enable them to be part of the work or project itself in some way.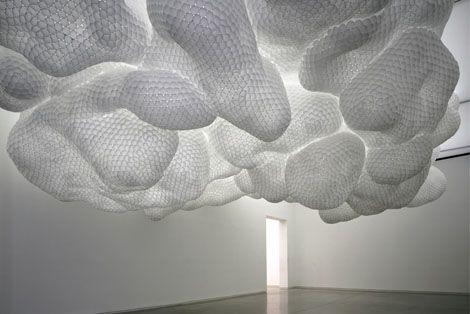 Tara Donovan Untitled (Styrofoam Cups) 1969 Styrofoam cups, hot glue dimensions variable.
For this reason, works of art that in the past relied on appropriating material that was considered waste or of little value now takes on a new meaning, beyond social commentary on the commodity fetishism of the object of art.  A contemporary example from the more established art world is the massive sculptural installations by Tara Donovan, made out of Styrofoam cups.  Coincidentally, one of her installations at the MCASD on view from October 2009 to February 2010 is contextualized around recycling, rather than on critiquing the preciousness of the object.  This does not mean that critique of commodity fetishism is no longer relevant, but rather that it is parallel to the dialogue on depletion of natural resources and the environment.  This means that artists at the beginning of the twenty-first century are dealing with a set of different variables. They no longer are expected to critique institutions but instead focus on becoming informants and interpreters who work with and for institutions.  And institutions can look to artists and designers to develop educational architectural projects such as Living Light, as well as Interactive Design, such as Flower Lamp.  This interdisiciplinary tendency in art practice and exhibition appears to be spreading to other areas.  Nevertheless, a critical consciousness is necessary, more than ever, in order to engage with the new forms of communication.
---
[5] I go into great detail about the different projects that I saw develop within a two-week period in my blog entries for the month of June 2008.  See: http://remixtheory.net/?p=315.
[6] Hal Foster, The Return of the Real (Cambridge, Massachusetts and London, England: MIT Press, 1999), 171-204.