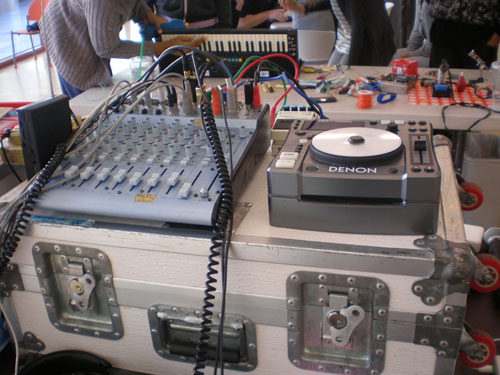 Sound set up by Beatrix*Jar, combines hacked battery operated toys with prerecorded samples played on a vintage Denon CD-DJ machine.
On January 23, I attended a circuit bending workshop at Museum of Contemporary Art San Diego (MCASD) taught by the experimental music duo, Beatrix*jar.  The hacking session was organized specifically for teenagers, who were more than ready to open up battery operated instrumental toys to release the ghost in the machine.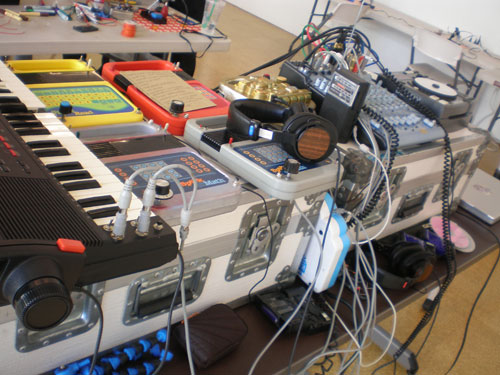 Another shot of Beatrix*Jar's set up.
I was interested in attending the event in order to get a sense of how teenagers in a time of  inter-connectivity relate to low-tech hacking.  I left the museum with a positive reaction as I confirmed that tinkering is not a trend but a constant creative staple for generations of the past, present, and future.
Video of Beatrix*Jar's six minute improvisational performance
The session began with a six minute performance by the sound art collective,  which clearly got the young hackers excited about the possibilities of circuit bending.  Beatrix*Jar, who have a background in art, are quick to claim that when they got started they had no music training.  This was their way of saying "anyone can do it!"  They complemented their demos with historical information, and encouraged participants to read Reed Ghazala's Extreme Tech Circuit Bending.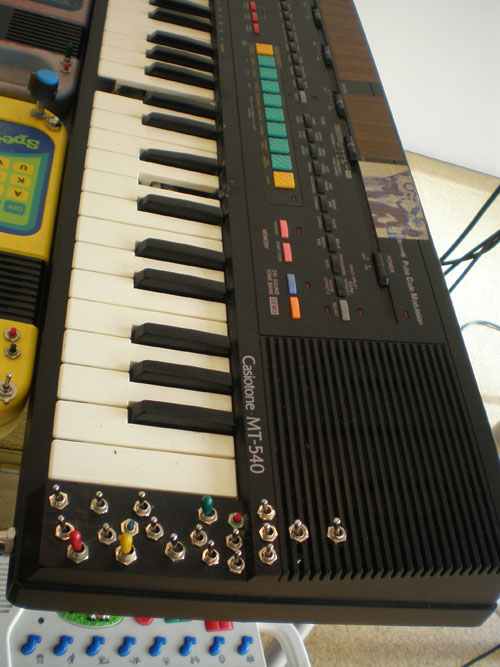 A hacked Casio keyboard.  The on/off switches on the sides add customized sounds found by benders who participate in the ongoing workshop sessions held at different venues by Beatrix*Jar.
After explaining the beginnings of circuit bending, they quickly moved to demonstrating how to open up the toys, and find unexpected sounds.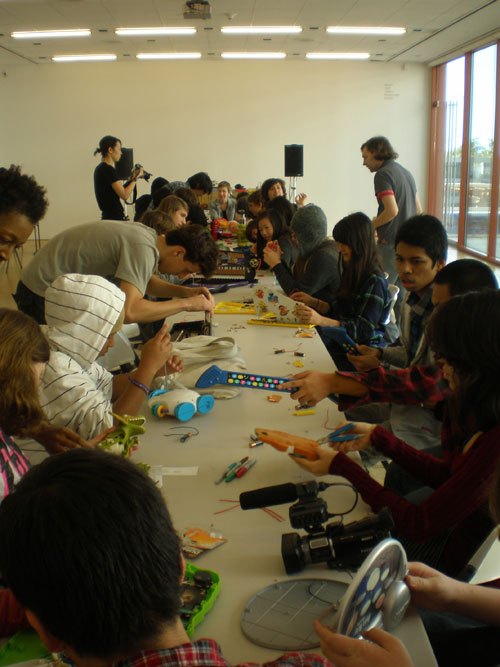 Opening the gadgets to release the ghost in the machine.  Circuit bending frenzy at its best.
Gabrielle Wyrick, Education Curator, who kindly hosted me for the afternoon, explained that the workshops for teenagers are part of a program set up to encourage kids of all ages to realize that the museum is a place to visit and learn, interact, have fun, and most of all be creative.  Workshops like these, Wyrick explained are at times held for adults as well.  It appears that the concept of interactivity is finding its way everywhere, even to institutions such as museums that in the past posed as monolithic entities.  A good thing this is, as Wyrick explains that the MCASD wants to embrace audience involvement. The museum is redefining itself as a place which searches for ways to reveal the creative process in visitors, who can experiment with similar strategies that inform the creative drive of artists who actually have exhibits in the museum.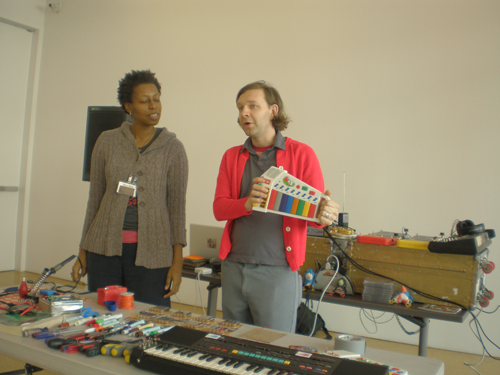 Beatrix*Jar explain how to hack battery operated instrumental toys.
For me it was a treat to see a hacking duo having a lot of fun with second-hand gadgets that can be found at any garage sale.  Creativity is the best value money can't buy.