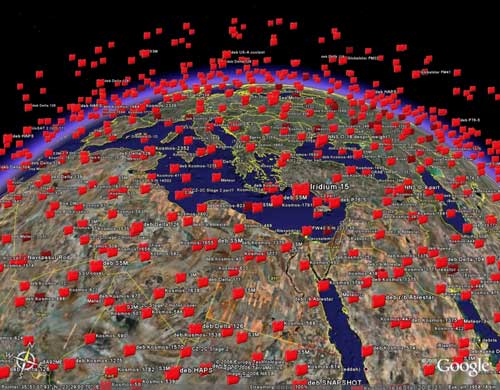 Image source: sasosedlacek.com
"Space Junk Spotting, by Saso Sedlacek, Software Mashup of Google Earth and a NASA database of space debris.
As part of my residence at the Swedish Traveling Exhibitions, on November 6 I visited Mejan Labs, an art space dedicated to supporting projects that critically reflect on diverse forms of technology.  The art space is located in the heart of the city of Stockholm.  Director Peter Hagdahl and Curator Björn Norberg greeted me upon my arrival.  We spent sometime discussing the history of media, and how Mejan Labs is part of the ongoing development of new media art practice.  In just three years, Mejan Labs has become an exhibition space worth noting outside of Sweden.  I learned about it almost as soon as its first exhibition was launched.  It was quite a treat to be able to visit it and meet  its founders in person.
At the time of my visit, Mejan Labs featured three works that focused on Astronomy, or on the earth in some abstract form.  "Earth and Above" on view from November 5, 2009 to January 12, 2010, presents the works of three artists, "A Space Exodus" (2008) by Larissa Sansour, "No Closer to the Source" (July 20, 1969) by Lisa Oppenheim, and "Space Junk Spotting" by Saso Sedlacek.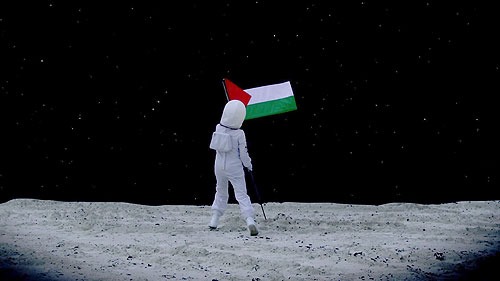 Image source: Mejan Labs
Image still from "A Space Exodus" (2008) by Larissa Sansour, Video Installation.
Sansour's "A Space Exodus" allegorizes the film "A Space Odyssey" by Stanley Kubrick in order to comment on the current political tensions surrounding Palestine.  The video, about three minutes in length, stars Sansour herself as an astronaut who reaches the moon.  Upon landing, she proceeds to plant the Palestinian flag, an act reminiscent of the first time that U.S. astronauts landed on the moon.  After placing the flag on moon soil, Sansour takes a leap to find herself floating in space, uncertain where she might be going.  As noted in the Mejan Lab website, Sansour's work extends the Palestine struggle to space.  The viewer may also consider the implications of space exploration as a means to claim territories; needless to mention that space exploration is also a statement of advanced scientific development.  Sansour's appropriation can be read as a commentary on the power relations driving research and development.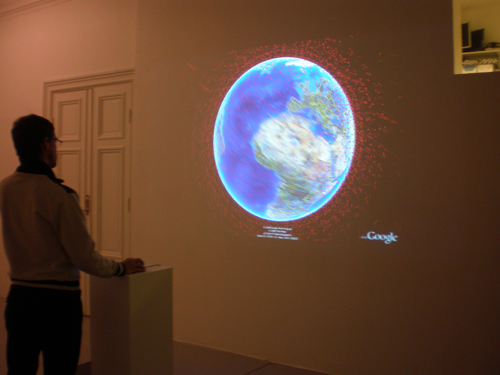 Installation view of "Space Junk Spotting" (2006) by Saso Sedlacek at Mejan Labs.
Saso Sedlacek's "Space Junk Spotting" is a software mashup, which implements NASA database information about space junk on top of Google Earth. In this project users explore  debris that is currently circulating the planet.  The actual software application can be downloaded by anyone (Click on the interface image to download file).  The visual representation of space junk as computer file folders provides a playful, yet frightening, visual experience through which the user may access information about the different particles circulating the Earth.  I could not help but wonder how dangerous it may become for future space shuttles to travel.  Sedlaceck's project also made me consider how we are polluting not only Earth's environment, but also space itself.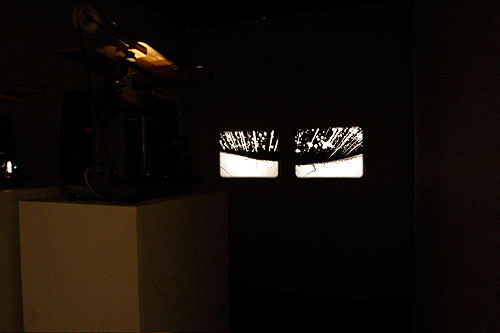 Image source: Mejan Labs
Installation view of "No Closer to the Source" by Lisa Oppenheim.
And Lisa Oppenheim's "No Closer to the Source" consists of two films loops. The artist took two images, one of the sun and the other of the moon, and photocopied them repeatedly.  The photocopies became degraded to the point that the moon and the sun disappear into pure abstraction.  According to Oppenheim, the images were taken on July 20, 1969, the day of the U.S. moon landing.  Oppenheim's film loop installation can be read as a commentary on the idea of progress.  Upon viewing, it appears one approaches the moon and the sun, but these become distorted, making one wonder what the incentives of progress as a political concept might be.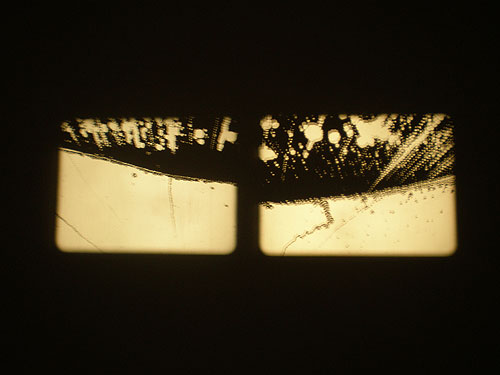 "No Closer to the Source" detail
These projects share a critical specificity that is not always found in work that appropriates technology for critical commentary.  New media art, or work that reflects on technology at times is unable to transcend the  default functional state of technology.  Yet, the three works displayed at Mejan Labs prove that with a well considered critical sensitivity, it does not matter is one is using new or well-established media.