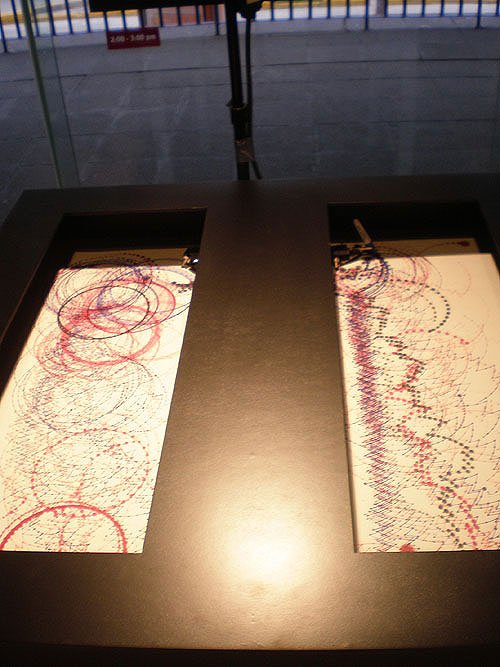 "Comeluz," Installation by Alfredo Borboa (México), 2009.  Two small robots draw circular patterns on paper.  One of the young artists competing for Transitio MX 03's National Talent Award.  The winner was "Not Yogurt," by Gabriela Gordillo Morales.
The last three days I spent at Transitio, I mainly focused on the curatorial conferences. I was also able to attend, very briefly, workshops and lectures on viral networks as well as physical computing conducted by Nova Yang, Sabrina Raaf, and Giselle Beiguelman.  There were other workshops taking place at both Centro Multimedia as well as Fonoteca; as is often the case in major events, it is simply impossible to attend everything one would like.
Below are brief notes on the curatorial conferences.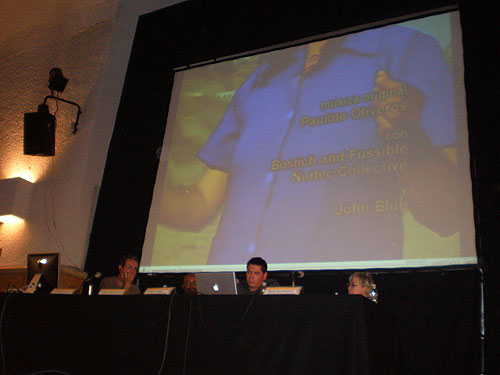 From left to right: Eduardo de Jesus, Gunalan Nadarajan, Eduardo Navas (myself), and Maris Bustamante.  On the Screen plays an excerpt of Vicky Funary and Sergio de la Torre's Maquilápolis.  The documentary was part of my curatorial selection.
I participated in a panel presentation along with Eduardo De Jesus and Gunalan Nadarajan (pictured above).  We discussed our curatorial approaches which were sensible to issues of globalization.  An interesting discussion ensued as people in the audience asked questions on how the local and the global relate.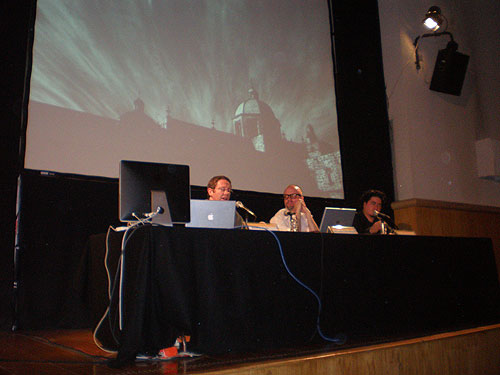 Rodrigo Sigal (Left) and Archangel Constatini (Center) discuss their audio-visual selections, "Bifurcaciones sonoras" (Aural Bifurcations).  Sigal explained his primary relation to sound as a creative medium, while Constanini discussed the historical investigation that led to the selections made by both curators, who not only selected three installations of audio-visual  works, but also organized the nightly concerts that took place throughout the week.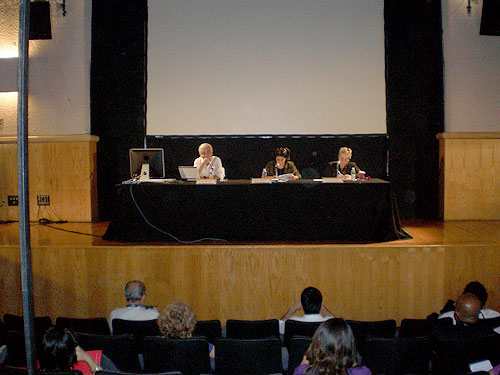 Arlindo Machado (left) and Araceli Zuñiga (center) discuss their selections for "Del Insilio al Exilio" (From Insile to Exile) [sic].  Their curatorial selections focused on how, at times, artists and other people in a position to make decisions choose to go on exile in order to develop a critical practice.  Also, the concept of being an outsider while inside one's culture was discussed.  Machado's premise and video selection referred to Latin America as a region, while Zuñiga focused on videos developed with the voices of natives of the Americas, particularly México.  She refers to her selections as "video arte indigena," (Indigenous video art).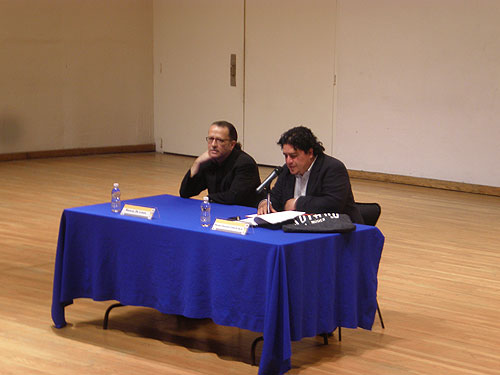 The Key note speaker for 2009 was Manuel De Landa (left), who gave an improvisational and well–organized lecture on assemblage and social complexity.  He argued that people should be weary of terms that often disguise the complexity of social structures such as the "State."  He broke down the hierarchical intricacies that make real change in the world difficult to achieve, and argued that if one took the time to evaluate the different parts of social and political structures, then one is in a better position to make constructive decisions.  His argument was in large part an extension of his theories published in A New Philosophy of Society (2006).