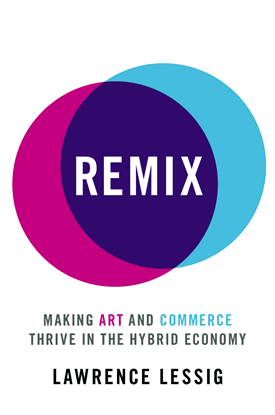 Image source: Lessig blog
Lessig's book on Remix was just released. Like his previous books, the emphasis is on the future of intellectual property. Unlike his other books, Lessig appears to focus on the act of "rip, mix and burn" that he often used to discuss different aspects of online culture. In "Remix" this act is the critical framework to discuss the future of creativity.
People heavily invested in the fine arts might find the use of the term "art" misleading, though. Lessig appears to use the term in broad terms to refer to creative acts that are becoming more common due to the spread of Remix principles.
I'm looking forward to this book making the rounds in networked culture. I hope it proves itself to be Lessig's most popular publication of them all. Sadly, he claims that it will be his last on the issue:
This is (I expect) the last book I'll write in this field. Dedicated to Lyman Ray Patterson and Jack Valenti, it pushes three ideas — (1) that this war on our kids has got to stop, (2) that we need to celebrate (and support) the rebirth of a remix culture, and (3) that a new form of business (what I call the "hybrid") will flourish as we better enable this remix creativity.
I wrote this book last year. Many of the themes were described in 18 minutes in my TED talk. I am very eager to have it out.
Text source:
http://www.lessig.org/blog/2008/08/coming_this_fall_remix.html
Lascia un commento
You must be logged in to post a comment.