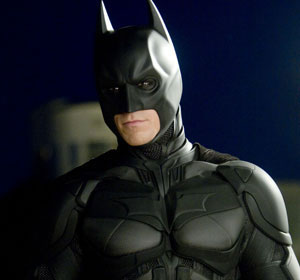 Special to The Times
Originally published: July 20, 2008
Image and text source: LA Times
Note: I've seen many of the live-action as well as animated features of Batman that have been spun out by Hollywood throughout the last few decades. As much improvement has taken place in the area of special effects in order to live up to the action that graphic artists created in comic books, one thing that had not been dealt with properly was the fact that in live-action features, when a super-hero ran in tights he looked quite silly. (The issue has been mainly with men. Women in tights like Elektra or Wonder Woman become sexual objects). Tim Burton's Batman was not bad, but it looked as though Batman was wearing a type of plastic suit, and one could not quite believe the suit's functionality as an enhancing device for the human body. Now, the suit for men has moved beyond the comic book's concept of showing off an overdeveloped body onto become an extension, a type of body armor which not only protects but enhances the physical strength of the superhero. The LA Times article below eloquently reflects on this shift in the translation of the comic book to the big screen. One can only expect that comic books will pick up on this concept and incorporate it into new graphic novels, completing feedback loop.
– E. Navas
———-
The 'Dark Knight' hero has tossed the sweaty rubber and molded-plastic costumes of yesteryear and sports a cooler, motocross-style flexi-suit this time around.
WHEN "THE Dark Knight" director Christopher Nolan and Oscar-winning costume designer Lindy Hemming considered how they would retool Christian Bale's Batman armor for the new movie, one question leaped to mind immediately: "Why, in 2008, would a superhero put on a rubber suit?" Hemming asks. "Why would he wear something that made him less active and unbelievably, unpleasantly hot? He wouldn't. He'd use all the technology available to be as comfortable as possible."
So when audiences get a look at the new, heavily segmented Batsuit with its Kevlar pecs and abs and exposed titanium-mesh under layer, they should know that this was no George Clooney Batnipple exercise in impishly messing with tradition. Rather, the "Dark Knight" crew was adhering to the creative mandate that Nolan first set on "Batman Begins": Ground the proceedings as much as possible in real-world believability. As costume effects supervisor Graham Churchyard pointedly puts it, "You're supposed to be scuba diving in a neoprene body suit, not kickboxing."
Read the entire article at LA Times
Lascia un commento
You must be logged in to post a comment.