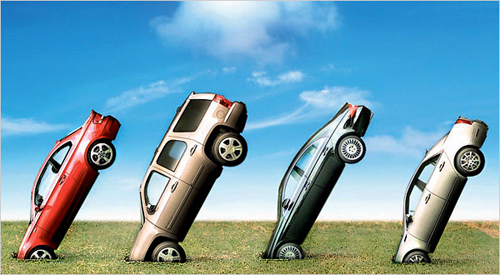 The above image is a photoshop composite by Steve Brown for the New York Times. The background was taken from the Getty Images archive. It is an illustration for the article Putting the Dream Car Out on the Pasture, published on July 27, 2008, which explains how people are coping with the high cost of gas prices.
As many people in the arts would know as well as those who love to take road trips, the above image borrows from Ant Farm's famous land art piece "Cadillac Ranch," in which Cadillacs were dumped into the ground at Amarillo, Texas. In 1997 it was moved a couple of miles from its original location. It is a disappointment that there is no reference to Ant Farm's work. Below are some images of Ant Farm's public art installation, along with comments by the people who took the pictures.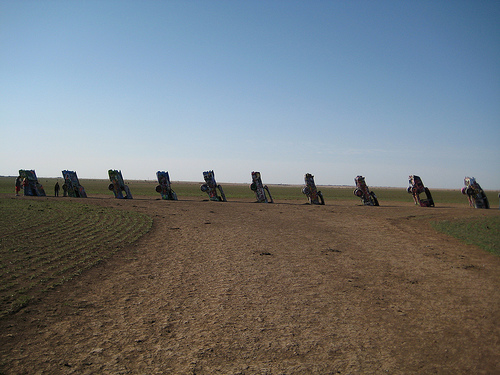 Image from Flickr
Quote: "The Cadillac Ranch just west of Amarillo is a famous Route 66 landmark. Built up in 1974 by said to be eccentric but brilliant millionaire Stanley Marsh 3 and The Ant Farm, this line of old Cadillacs are buried nose first into the ground. The angle of the cars are also reputed to be the same as the ancient pyramids at Cheops. The Cadillacs were moved further west in 1997 from its original location due to growth from nearby Amarillo. The Cadillac Ranch is another of the must see sights off the Mother Road."
-RoadsidePeek.Com Website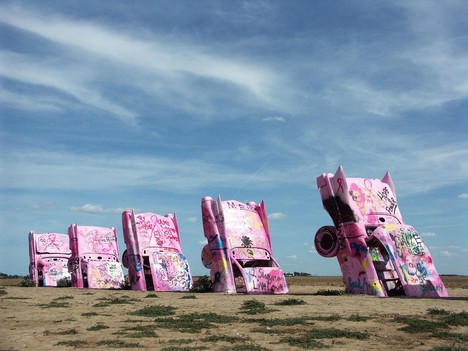 Image and text from Treehugger
Quote: Ant farm was a group of artists and architects that, along with Archigram, was hugely influential among architecture students in the seventies, particularly if you were into mobile architecture, alternative technologies and dovetail joints. Many know about their Cadillac Ranch, which remains an iconic statement about the end of oil as it was in the last oil crisis; few, including Regine at Worldchanging know about their other work. However she does now, after seeing an exhibition of their work at the The Centro Andaluz de Arte Contemporaneo in Seville.
Lascia un commento
You must be logged in to post a comment.