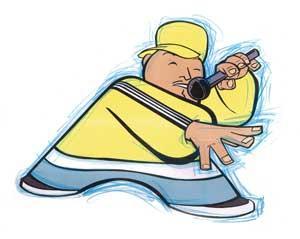 (Illustration by Rob Hernandez – Mercury News)
Image and text source: Mercury News
Published on 01/04/2007
HIP-HOPPERS TURN TO VOICE-BASED RHYTHMS
On the hip-hop scene, "beatboxing" — the term for the art of creating rhythms and sound effects with the human voice — has taken a back seat to rapping, DJing, emceeing, break dancing and graffiti art since it surfaced in the '80s.
Until now.
The popularity of beatboxing is growing, and one indication is the 2007 West Coast Open Human Beatbox Battle, which takes place Friday night at the Ashkenaz music and dance club in Berkeley, where artists will create all kinds of beats, sometimes while playing along with other instruments.
Thirty-seven-year-old Anthony Rivera (a.k.a. Click) has been beatboxing for 22 years. His work was heard in the 2002 Eminem movie "8 Mile." Rivera says, "I've seen beatboxing change. People are starting to get more creative, getting closer to the actual sound (of percussion instruments) than we did back in the day."
Read the entire article at Mercury News
Lascia un commento
You must be logged in to post a comment.