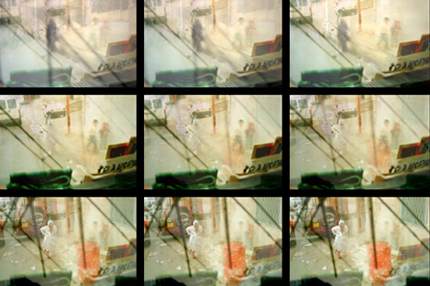 Image and text source: Serial Consign
Originally published: 08-19-2007
I've been a longtime fan of musician and artist Sebastian Meissner who releases beautiful and often unsettling ambient music under the moniker Klimek on Kompakt. I began a dialog with Sebastian when I tipped him off that I had used a Klimek track to score my Kamera Obscura project, and as we chatted back and forth I realized he was the creative force behind a number of other projects that have showed up on my radar over the years.
Sebastian is also behind or was involved in: Bizz Circuits, Autopoieses (with Ekkehard Ehlers) and Random Inc. In addition to the Klimek material that I find so mesmerizing, the Random Inc. record Walking In Jerusalem was one of my favourite albums of 2002, and Autopoieses's locked-groove laden La Vie À Noir Transposed didn't leave my crate for two years when I was still playing records.
What interested me so much about about Walking in Jerusalem, was that the album proposed a remixed urban space. In Meissner's Jerusalem, political and cultural boundaries melted away and the city was rebuilt one sample and one loop at a time. The album utilized scores of field recordings, collected from different points within the city as source material and the resulting (re)composition was something altogether special. The project is one of the most successful "city" records that I have heard and for this reason, it pleased me greatly to learn that Meissner has continued to explore urban space through his work.
Riffing off the infamous Geto Boys quote that "the world is a ghetto," Ghetto Ambient (pictured above) and Autokontrast both serve as archives for an exploration of what French ethnologist Marc Auge has referred to as non-places. The statement for Ghetto Ambient articulates these spaces as:
..places in which identidy, relations, and history are only marginally significant and where social relations are minimal. Familiar and recognisable aspects, are minimized. Classically defined through arbitrariness and repeatability of its architecture, places such as freeways, airports, malls and supermarkets make their visitors feel like they are always, and never at home.
The work displayed on these sites blends photography and video from Israel and Palestine, Algeria, Poland, Argentina and the United Kingdom much in the way Walking in Jerusalem reconfigures distinct urban moments into a new, de-familiarized entity.
Just as a brief aside, it is very refreshing to see image based work buried in an idiosyncratic interface as I think I'm starting to find the neutrality of flickr a little numbing. For anyone who can't handle viewing this work on Meissner's terms, he also recently launched a YouTube account which archives his video work from the last few years.
Lascia un commento
You must be logged in to post a comment.