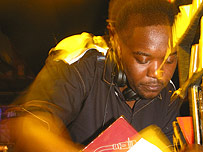 Image and text source: http://www.bbc.co.uk/1xtra/tx/
documentaries/remix.shtml
Date of publication, uncertain
1Xtra's 'Remix Kid' Seani B uncovers the origins of remixing…
How has the art has changed over the years?
First developed by Jamaican reggae producers in the 1960s to create dub music, remixing was picked up by hip hop pioneers and disco DJs to develop new styles.
P Diddy is one the most famous remixers of all time – if that title is in your sights, listen up for Seani's tips on how to put together your own remix track.
Who's the remixer of the remixers? How has remixing blurred the boundaries between different musical genres in the UK?
Kenny Sykes
Remix for the right reasons! The current surge of remixes are short lived and throw-away music because too many of them are done just for the sake of it, It's a trend it's a cool thing to do , etc etc these reasons are not why King Tubby, Walter Gibbons or any other seminal remixer did what they did. Their passion was born out of adding to the music, and from next to nothing and with minimal technology, it was their knowledge of instrumentation and music structure, knowing the formula of how to create a great song that helped them achieve the right results, to put any old acappella onto any old classic beat, was revolutionary at first but now, even though it is effective in the short term, is rubbish. What makes it throw away is the lack of thought and passion behind the boards, which unfortunately was displayed by Seani B in his live mix, which further transcends to us the listener. MUSIC IS FOR EVERYONE BUT NOT EVERYONE CAN MAKE MUSIC! for the trend of tired old mash ups and songs with 3 different remixes (that u forget as soon as you hear) to change , people should look at the role of the remixer/ producers not only masters of technology and media , but also masters of musicianship.
hiphophed
Different genres will always be the best thing about music – rock, soul, rnb, jazz, pop and reggae have all contributed to modern-day 'urban music'. Remixing is just one way of bringing those elements together to create innovative styles.
Shizzle
Remixing is canny messin up the music especially when you have dance/trance and all that micky mouse styles jumpin on lyrics and ripping it off and puttin it on some tired ass loop beat. With dancehall remix's it is ok but only to a certain point. The get low remix was hot when it first poped off with lil jon and ely man but it kinda got boaring how man times you gona listen to a man tellin you to pon the river etc (no offence to the dancehall fans) Then you got all the garage n "bangra" remix's now thats what you call rippin and murderin a track and i dont mean that in a good way. more like when a singer tries to hit the high notes like mariah carey
young carter
With hip-hop the remix style is varied. firstly you get the "remix" where a artist drops a few bars on the original beat just to make a few extra pennies. Then you have a whole new set of lyrics on the original beat with added artists, which shows some effort. finaly you get the whole new beat and lyrics with the same title. Of course these concepts can be kind of mixed. But the best way is when it pops off with "stop its the muthafukin remix" then you know some efforts been put in to the shizzle.
cliv e.e.lee
I started remixing tracks in 1979 on tape, then vinyl, a few years later. I'm still applying a technique which is at its best and most developed in the hip hop genre, today. D.j remixing is an art form and taken for granted often these days, but if you listen to and follow early pioneers, up until today you'll have a good overall knowledge of its influences, as well as what it means to be apart of this gift of musical free expression. One big problem is if you have an apple held by somebody, and ten guys take a bite, you'll find most of those doing the biting, only too quickly forget the holder of the apple, and only remember the sweet taste of the bite. In otherwords its easy to distort the root of remixing without giving props where, its due. O.k so you may do, drum, and base, house or whatever but respect the archetects, and your heart will be in the right place to promote mutal respect for something, that offers the possibility for us all to eat.
Lascia un commento
You must be logged in to post a comment.