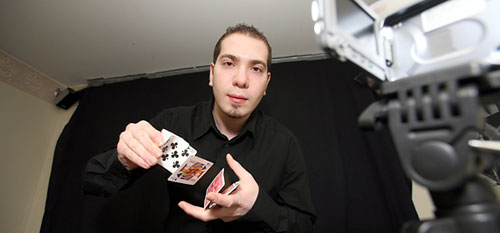 Roy Raphaeli, who is known professionally as Magic Roy, has video clips of magic tricks on Metacafe, a Web site that pays him if he attracts a lot of viewers.
Photo: Chester Higgins Jr./The New York Times
Image and text source: NY Times.
Published: February 15, 2007
AT lunchtime, or when he is walking the halls of his workplace, Roy Raphaeli's colleagues often beseech him to do a magic trick. Usually, he obliges. "I take the opportunity to show people my new stuff and see how they react," said Mr. Raphaeli, 23, a Brooklynite who works for a mail-order camera retailer.
Skip to next paragraph
Related
10 Sites That Pay for Your Video (February 15, 2007)
While Mr. Raphaeli, known professionally as Magic Roy, has been entertaining people with card tricks and sleight-of-hand since he was 5, he does not perform at birthday parties or casino showrooms.
Instead, Mr. Raphaeli's stage of choice is the Internet, where he has posted 30 short video clips to Metacafe, a Web site that pays video creators based on how many viewers their work attracts. So far, Mr. Raphaeli has earned more than $13,000 from the site, where his most popular card trick has been seen 1.4 million times.
As video sites look for ways to attract higher-quality content, they are dangling cash, usually offering to cut creators in on the advertising revenue their work generates.
Lascia un commento
You must be logged in to post a comment.