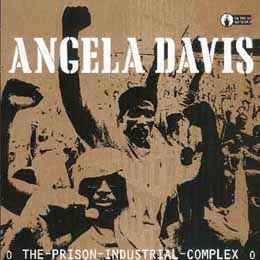 The Prison Industrial–Complex (Audio CD Recording)
Image source: http://dancedancerevolutionary.org/free.html
Project URL: http://dancedancerevolutionary.org/
Text source: made available by Fereshteh Toosi for Remix Theory
Dance Dance Revolutionary! is pleased to announce that the winner of the Stay Free – Angela Davis re-mix contest is SPINNERTY of San Francisco
Listen to the MP3 at the project website: http://www.dancedancerevolutionary.org/free.html
Dance Dance Revolutionary! is an arts initiative that aims to share information about radical activism through fun, participatory events. The project includes various platforms inspired by the lives of Angela Davis and Emma Goldman, two important figures in U.S. history.
As part of its ongoing activities, Dance Dance Revolutionary! hosted a re-mix contest. The objective was to creatively re-assemble songs written by the Rolling Stones and John Lennon/Yoko Ono about activist Angela Davis around the time that she was acquitted of federal murder charges in 1972.
Dan Finnerty, AKA Spinnerty, was chosen last month to win the $100 prize. His piece "Hey Angela!" opens with an introduction by a Cornel West speech at the 1997 Du Bois forum "A Conversation on Race". The listener will discover that the words "Hey Angela!" are assembled from syllables sung in the original songs (Angela by John Lennon/Yoko Ono, Sweet Black Angel by The Rolling Stones, and Go Home Commie, an anti-communist funk song).
A DJ and music producer living in San Francisco, California, Spinnerty was pleased when he heard the news: "I can only hope that my work can in some way inspire others to follow in the steps of Davis by being true to themselves and their beliefs. The lessons learned from Davis and her times are still relevant and applicable to today's society. We've still got a lot of work to do!"
Contest organizers are working to expand the project through a limited-edition CD with contributions from a curated group of artists. To participate, receive more information, or to unsubscribe from further announcements, contact Fereshteh Toosi
Lascia un commento
You must be logged in to post a comment.