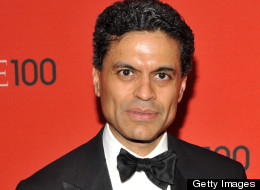 Image: Huffpost
By Eduardo Navas
Note: This entry was updated on August 19, 2012 with an extra commentary at the end of the main text.
As an educator in higher education and researcher specializing in remix culture and authorship, when I first learned about Zakaria's admission to plagiarism, I was very disappointed in him, and thought that there was no way around it, that his admission of plagiarizing parts of Jill Lepore's work on gun control written for the New Yorker puts into question his intellectual integrity.
I thought that his apology was quick and to the point, but that somehow it was not enough. I thought that it was necessary for Zakaria to come forward and explain in as much detail as possible the reasoning for his behavior. And I thought that I wasn't alone in hoping for this to happen–that if an actual explanation was delivered, it would all serve the constructive purpose of discussing the seriousness of plagiarism with students while providing a concrete example of a public intellectual who committed such an unacceptable act.
I thought that Zakaria should give an extensive explanation, first, simply because he owed it to his audience and readers, who have come to respect his work at CNN, Time and The Washington Post; and second because it would inform, and therefore become, admittedly, an unusual contribution to the debates on intellectual property during a period when younger generations are prone to plagiarize due to the easiness of copying and pasting.