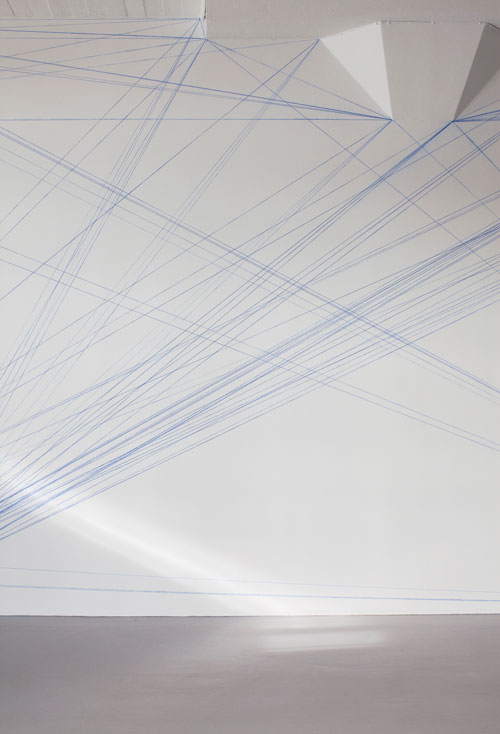 "Wall Drawing #51", June 1970
All architectural points connected by straight lines. Blue snap lines.
Courtesy LeWitt Collection, Chester, CT
First installation in Sperone Gallery, Turin, Italy and Museo di Torino, Turin, Italy
First drawn by: P. Giacchi, A. Giamasco, G. Mosca
Image courtesy of Magasin 3
Read original post
Written for Swedish Traveling Exhibitions, December 2009/January 2010
Also published in R U International?, a yearly publication also by the Swedish Traveling Exhibitions, edited by Marten Janson and Sanna Svanberg,  pages 90-105.
Note: The following text is the second of two originally published in the magazine Spana!, a publication for the Swedish Traveling Exhibitions (now called Swedish Exhibition Agency). I never got around to releasing the English version of the text until now. It reflects on the roles of artists and curators switching roles, influenced by conceptual art. It  then relates such account to the overall experience I had when I visited the exhibition spaces and museums throughout Sweden. 
The first essay is When the Action Leaves the Museum: New Approaches to the Exhibition as a Tool of Communication.
The list of previous posts that inform the two essays:
Sweden: October/November 2009
Notes on Sweden's Approach to Art and Exhibitions:
Färgfabriken: http://remixtheory.net/?p=401
Interactive Institute: http://remixtheory.net/?p=402
Magasin 3: http://remixtheory.net/?p=403
Iaspis: http://remixtheory.net/?p=404
Mejan Labs: http://remixtheory.net/?p=405
Various Museums in Gothenburg: http://remixtheory.net/?p=406
During my travels as Correspondent in Residence for The Swedish Traveling Exhibitions during October and November of 2009, I visited museums and public institutions in Gothenburg and Stockholm that, in varying degrees, approach exhibitions as tools of communication.  It became evident to me that their curatorial methods are sensitive to emerging trends in networked communication linked to the tradition of appropriation in the fine arts.  In what follows, I examine how the use of appropriation as a tool of selection is part of curatorial and art practice, as well as exhibitions at large.
The Artist as Medium
Lucy Lippard, in her essay, "Escape Attempts," reflects on her role as curator during the heyday of conceptual art in the 1970s. She quotes Peter Plagens's review of her exhibition "557,087," written for Artforum: "There is a total style to the show, a style so pervasive as to suggest that Lucy Lippard is in fact the artist and that her medium is other artists." Lippard adds her own comment and elaborates, "of course a critic's medium is always artists."[1]  It should be explained that Lippard was both critic and curator.