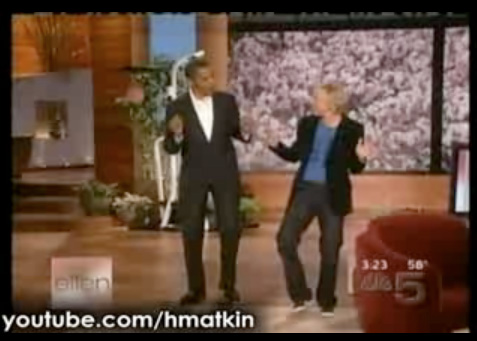 Video-still source: YouTube
"Obama Roll" is a video mashup that has been making the rounds these last few days before the U.S. Presidential election.
http://www.youtube.com/watch?v=65I0HNvTDH4&feature=related
The video is clever and funny, with a critical edge. It opens with Obama and Ellen Degeneres dancing to Rick Astley's "Never Gonna Give You Up." When Rick Astley begins to sing, clips of Obama from a number of his rallies are carefully edited to show the presidential candidate singing along with Rick Astley.
This video has developed a discourse of its own, as it was mashed up in a video response in which Senator McCain is shown during the Republican Convention presenting to the Republican audience the very same clip of Obama dancing and singing: http://www.youtube.com/watch?v=_TiQCJXpbKg
This second mashup appears quite believable and one can argue is even more successful but only because the "Obama Roll" mashup is quite effective to begin with. If not sure why the term "Roll" is included as part of the title, check out the brief definition of rickrolling on Wikipedia: http://en.wikipedia.org/wiki/Rickroll