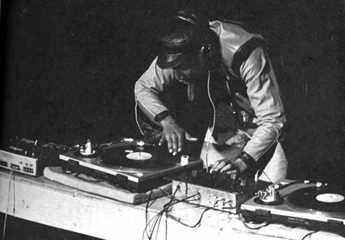 Grandmaster Flash on the Wheels of Steel some time in the early days of hip hop.
Image source: greatestcities.com
Update as of 8/13/10.  The revised version of this text is now available online as Remix Theory post 444.
Update as of 4/29/10: This text has been revised for the book publication Mashup Cultures. In the revised print version, I introduce a series of new terms along with a diagram.  The 2007 draft is shared below in the tradition of online sharing.  The final argument while it has not necessarily changed is more precise in the revised print version, which I encourage those interested to read.
This text was published on June 25, 2007 in Vague Terrain Journal as a contribution to the issue titled Sample Culture.
Today, sampling is practiced in new media culture when any software users including creative industry professionals as well as average consumers apply cut/copy & paste in diverse software applications; for professionals this could mean 3-D modeling software like Maya (used to develop animations in films like Spiderman or Lord of the Rings );[1] and for average persons it could mean Microsoft Word, often used to write texts like this one. Cut/copy & paste is a vital new media feature in the development of Remix. In Web 2.0 applications cut/copy & paste is a necessary element to develop mashups; yet the cultural model of mashups is not limited to software, but spans across media. Mashups actually have roots in sampling principles that were first initiated in music culture around the seventies with the growing popularity of music remixes in disco and hip hop culture; and even though mashups are founded on principles initially explored in music they are not always remixes if we think of remixes as allegories. This is important to entertain because, at first, Remix appears to extend repetition of forms in media, in repressive fashion; but the argument in this paper is that when mashups move beyond basic remix principles a constructive rupture develops that shows possibilities for new forms of cultural production that question standard commercial practice.