Here are some links worth keeping for future reference. (the videos are a must see):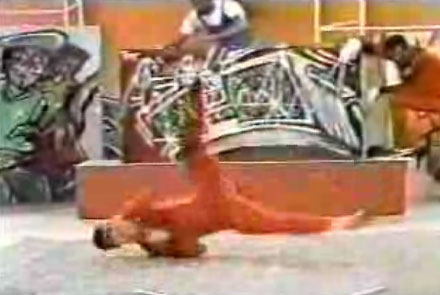 Image source: Youtube
NYC Breakers:
http://remus.imeem.com/video/woQpNXHw/
graffit_rock_part_1_featuring_the_new_york_city_breakers/
A vague story on the NYC Crew: http://www.msu.edu/~okumurak/dancers/nycb.html
NYC Breakers at Grafitti Rock:http://www.youtube.com/watch?v=5dJ76l_Xtis
Rock Steady Crew:
http://www.youtube.com/watch?v=E-mfZ1Jf15M&mode=related&search=
Intro to the main site is worth the downloading wait. Shows the new style of B-Boying:
http://www.rocksteadycrew.com/
Beat Street Film, battle of Rock Steady and NYC:
http://www.youtube.com/watch?v=6iXKTVQM_6g
Wikipedia's got the goods:
http://en.wikipedia.org/wiki/Rock_Steady_Crew
Other Histories:
Killer loop at the bottom of this one:
http://www.portfolio.mvm.ed.ac.uk/
studentwebs/session4/39/Breakdance%20H.htm
(Included below for archival purposes)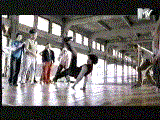 This one needs footnotes. Definitely offers things to look up. Never really connected James Brown to B-Boying before:
http://www.jam2dis.com/j2dbreakdancehist1.htm
Lascia un commento
You must be logged in to post a comment.