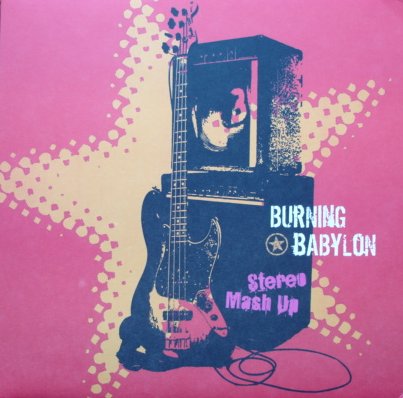 Image source: cookiejar.be
Text source: terapija.net
09/03/2006
To american dub producer and musician Slade "Burning Babylon" Anderson reggae in his begginings reggae was just a side thing. He started his musical career by playing guitar in punk/metal bands like The Straw Dogs and The Freeze, where he builds himself in solid guitar player. But when he, in mid 90's, swiched the guitar with bass, and punk with reggae the remarkable part of his career begins. With his first album "Roots and Heavy" from 1999. Slade tried to imitate his idols, King Tubby and Mad Professor, in his own way, as well as his nationales Thievery Corporation, in which he succseeded. Next album, "Garden of Dub" from 2001. passed even better, as it comes with remarkable cover of Clash's "Bankrobber" and few hits made on his own, "Into Twilight" and "Dub of Thieves". Following year he started to work with excellent english dub/roots label & distribution Tanty for which he publishes a maxi single "Dub Shack", as well as he contributes to their compilation "Roots of Dub Funk" vol.3 with song "Living Soul Dub".
In 2004. Anderson is swiching to old american label Mars, for which he publishes excellent album same year called "Knives to the treble", which both critics and audience recived very well. "Knives…" as album is situated in between the already formed personal style of Anderson and fascination with famous Washington duo Thievery Corporation. Fat bass lines, dominant rhythms and great effects present on this album shows us how powerful and loud Slade can be when he wants. His newest album, "Stereo Mash Up" published in 2005 is sequel to his previous work, this time comes in little slightier variation. From the first notes it's eminent that this time Roots Radics, a legendary jamaican session and live band joined his list of inspirations, specially their collaborations with King Tubby. And although he's not the strongest and the most heaviest producer present in the market today, and although his work cannot be measured with european producers, Burning Babylon once again succseded in his decision to be the alternative to strong european production and their fascination with steppers and alike sounds. Because, in the end, this is dub. And this is not dub with algebaric sign, the one we can set on the shelf with samelike issues, but unique sound which this producer is pushing for more then 10 years. And how good it is, jugde by yourself.
grade [1-10]: 7
Lascia un commento
You must be logged in to post a comment.