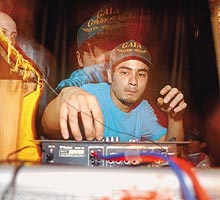 Image: DJ Yellow P., do Dubversão (à dir.). Galera que faz sound system no Rio e em São Paulo by R. Setton.
Source: Epoca


Gênero musical surgido na década de 70 na Jamaica começa a ganhar força no som de novas bandas e nas pistas de dança do Brasil
Parece até novidade. O agito que começa a se formar, principalmente com festas pelo eixo Rio-São Paulo, faz o dub parecer bem mais novo do que realmente é. Na verdade, a ''inovação'' surgiu na Jamaica, no começo dos anos 70. O dub gerou o drum'n'bass e o remix, e é tido por muitos como pai da música eletrônica. Foi também usando a base desse gênero musical que saíram as primeiras rimas de rap. Isso quando o dub já estava em Nova York, levado por imigrantes jamaicanos. Tão velho e tão novo, o estilo conquista um público diverso, freqüentador dos inferninhos e festinhas que rolam pelo país.
Segundo o paulista Fábio Murukami, conhecido como Yellow P. e considerado o melhor DJ de dub do Brasil, o estilo nada mais é do que o esqueleto da música. ''É a versão do produtor que faz com que uma mesma música pareça outra, tirando e colocando vocais e instrumentos'', explica. Em alguns casos, um MC (na Jamaica chamado de deejay) canta e fala por cima da canção. Na prática, pode-se dizer que a música vem separada em canais de baixo, bateria, guitarra e vocais, e o produtor mexe com as possibilidades, colocando efeitos e criando outra versão.
Lascia un commento
You must be logged in to post a comment.