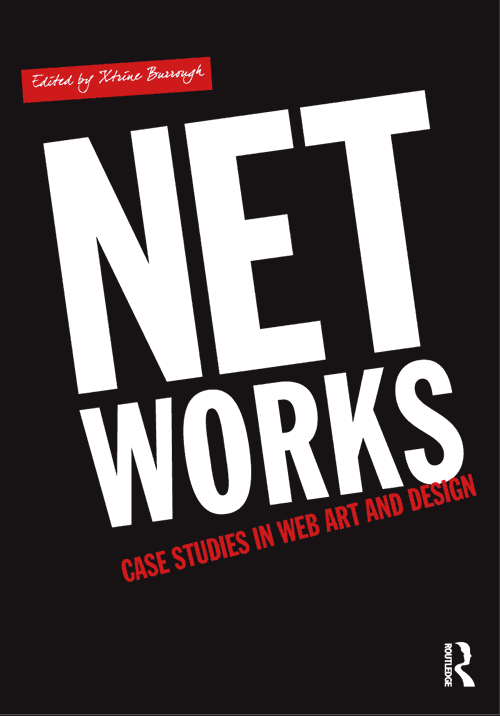 I contributed an essay on my project Traceblog to the book publication Net Works: Case Studies in Web Art and Design, edited by Xtine Burrough.  I want to thank Xtine for the opportunity to share my ideas.  Below are excerpts from my chapter contribution, which is titled after the actual online project as "Traceblog."  After the excerpts you will find the table of contents, which, in my view, includes an impressive list of contemporary new media artists. Excerpts from my chapter contribution:
[…] Traceblog was developed in reaction to one of my previous projects titled Diary of a Star (2004-07), a blog that appropriated entries from The Andy Warhol Diaries.   As exciting as Diary of a Star was for me to produce, it consumed more time than I expected because entries had to be carefully written and took much longer to compose than average blog posts. Soon after I finished the Warhol project I began to think about the changes that had taken place with the shift to Web 2.0, and how blogging had changed since 2004. I realized that keeping track of people's surfing activity had become an important element for private, public, and state organizations to data-mine patterns of communication and consumption online.   The term "social media" began to be used more often when discussing the growth of early networks such as Orkut, and Friendster around 2004, the period when I began to develop Diary of a Star.
I evaluated the changes in online activity since 2004 and decided to develop Traceblog to reflect on the new stage that global culture was entering in 2008, during which millions of people around the world willingly shared information about themselves online, via social networks such as Facebook, Flickr, and Myspace, as well as YouTube, not to mention thousands of blogs, which by such time were conventional tools of communication for average Internet users. The result of the social media frenzy is an attitude of sharing that is ubiquitous in 2010, the time of this writing.
[…] Traceblog is a direct result of my ongoing practice as artist and media researcher.  It makes the most of the default state of works of art in new media practice as informational forms, not defined by physical presentation. Traceblog and similar online works function in a state of flux defined by the growing archive and its relation to the ever-present: the now.
Table of Contents
List of Figures                            x
Acknowledgments                                    xiii
List of Contributors                       xiv
Introduction to Net Works                          1   (2)
Xtine Burrough
PART I Formalism and Conceptual Art              3   (22)
Formalism and Conceptual Art, introduction   3   (4)
Edward A. Shanken
1 Color Field Paintings (Browser)              7   (9)
Michael Demers
2 YouTube as a Subject                         16  (9)
Constant Dullaart
PART II Collections and Communities              25  (22)
Virtual Communities: An Interview with       25  (2)
Howard Rheingold
Xtine Burrough
Howard Rheingold
3 WTF?!                                        27  (11)
Robert Nideffer
4 SF Garden Registry                           38  (9)
Amy Franceschini
David Lu
Myriel Milicevic
PART III Crowdsourcing and Participation         47  (29)
Cheaper by the Dozen: An Introduction to     47  (8)
"Crowdsourcing"
Trebor Scholz
5 Mechanical Olympics                          55  (11)
Xtine Burrough
6 Google Maps Road Trip                        66  (10)
Peter Baldes
Marc Horowitz
PART IV Data Visualization                       76  (24)
On Data Visualization                        76  (3)
7 Superfund365                                 79  (11)
Brooke Singer
8 Pastiche                                     90  (10)
Christian Marc Schmidt
PART V Error and Noise                           100 (21)
Seductive Errors: A Poetics of Noise,        100 (4)
introduction
Mark Nunes
9 Luscious                                     104 (7)
Fernanda Viegas
Martin Wattenberg
10 Tumbarumba                                  111 (10)
Ethan Ham
PART VI Surveillance                             121 (24)
Web 2.0 Surveillance and Art, introduction   121 (7)
Christian Fuchs
11 F'Book: What My Friends Are Doing in        128 (9)
Facebook
Lee Walton
12 Traceblog                                   137 (8)
Eduardo Navas
PART VII Tactical Media and Democracy            145 (21)
Tactical Media, introduction                 145 (3)
Critical Art Ensemble
13 The Good Life/La Buena Vida                 148 (10)
Carlos Motta
Eva Diaz
Freckles Studio
Stamatina Gregory
14 Oiligarchy                                  158 (8)
Molleindustria
Paolo Pedercini
PART VIII Open Source                            166 (23)
Open Source Creativity, introduction         166 (4)
David M. Berry
15 The Real Costs                              170 (9)
Michael Mandiberg
16 Add-Art: Sharing, Freedom, and Beer         179 (10)
Steve Lambert
PART IX Hacking and Remixing                     189 (21)
Hacking and Remixing, introduction           189 (3)
Stefan Sonvilla-Weiss
17 Pigeonblog                                  192 (8)
Beatriz Da Costa
18 Joyce Walks                                 200 (10)
Conor Mcgarrigle
PART X Performance and Analog Counterparts       210 (18)
Performance and Analog Counterparts,         210 (2)
introduction
Ken Goldberg
19 The Gandhi Complex: The Mahatma in          212 (9)
Second Life
Joseph Delappe
20 Alerting Infrastructure! Challenging the    221 (7)
Temporality of Physical versus Virtual
Environments
Jonah Brucker-Cohen
Index                                              228