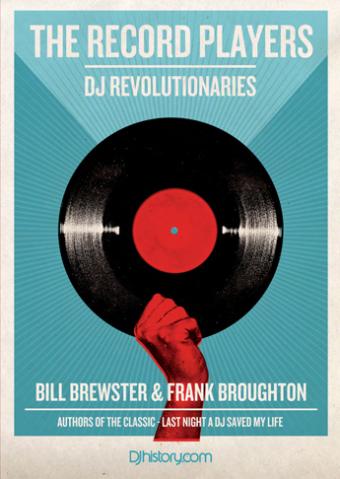 This past week I attended McKenzie Wark's reading/launch of his latest book The Beach Beneath the Street,  at Spoonbill and Sugartown Booksellers, located in Brooklyn, NY.  I arrived just a few minutes late, and stood close to the entrance as all seats were by then taken.  This was to my good fortune because I stood next to a table that displayed a copy of  The Record Players: DJ Revolutionaries.  The publication is  a set of interviews conducted by Bill Brewster and Frank Broughton.  I immediately picked up the book, and look at the list of interviewees. I bought it.
The authors oversee the website, djhistory.com, where, a few years ago I read some of the same interviews now available in print form.  I went to the site as soon as I got home and found the interviews along with more recent ones.  There is something about the interviews being published in print; perhaps it is the layout, perhaps it is the thingness of the book.  Whatever the reason, I'm happy to learn that the editors plan to release more of their reviews in print in the near future.  I like this book because  it serves as a primary resource for anyone interested in the history of DJ culture.  It is a good companion to Brewster and Broughton's previous book, Last Night a DJ Saved my Life, which I cite in different publications of my own.
I was not digging at all at the time I saw this book on the table, which is why I call my find an [un]dig.  It was a happy find, which reminded me of the old days when I spent hours at local record shops in Los Angeles, listening to records, and when least expected I would find a great tune misplaced.  The authors admit that it is hardly an exhaustive publication, since there are omissions, and no women.  The latter they blame on history.  One has to dig for the women.  This is something of need for DJ culture to keep flourishing.  DJhistory already offers some interviews of women record players.  I look forward to reading their interviews in book form as well.