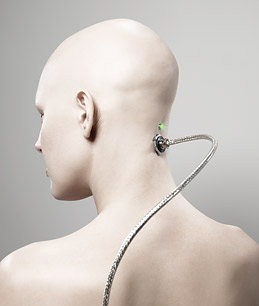 Photo–Illustration by Phillip Toledano for TIME
Note: Cybernetics and its popularization under the term Artificial Intelligence (AI) never went away.  Now the possibility of Artificial Intelligence promoted under the term "singularity" appears will become a reality in less than fifty years in large part because of its promise for the efficiency, balance, and cohesion of culture.  The real incentive is, of course, global economics.
On Feb. 15, 1965, a diffident but self-possessed high school student named Raymond Kurzweil appeared as a guest on a game show called I've Got a Secret. He was introduced by the host, Steve Allen, then he played a short musical composition on a piano. The idea was that Kurzweil was hiding an unusual fact and the panelists — they included a comedian and a former Miss America — had to guess what it was.
On the show (see the clip on YouTube), the beauty queen did a good job of grilling Kurzweil, but the comedian got the win: the music was composed by a computer. Kurzweil got $200.
Read the complete story: Time