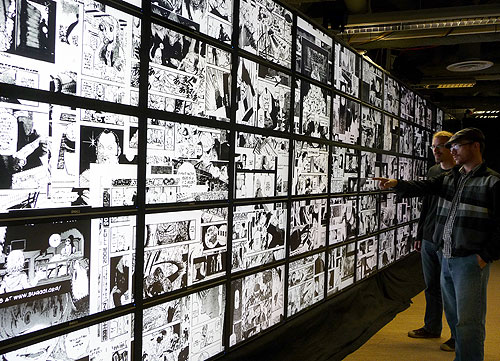 Image: Jeremy Douglass (front) analyzes manga comic pages.
The Software Studies lab has had a busy week.  Three publications are currently available, as listed below.
Article:Jeremy Douglass, William Huber, Lev Manovich. "Understanding scanlation: how to read one million fan-translated manga pages." Forthcoming in Image and Narrative, Spring 2011. [pdf 3 MB].
An article on Cultural Analytics, titled "Graphing Culture" by James Williford, appears in the March/April 2011 issue of Humanities, the official magazine of the National Endowment for the Humanities (NEH).
And Tara Zepel published her essay "Cultural Analytics at Work: The 2008 U.S. Presidential Online Video Ads" in the edited book Video Vortex Reader II: moving images beyond YouTube – new INC publication.