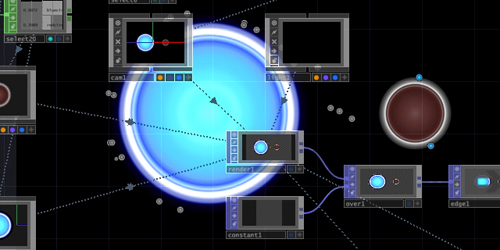 Image source: http://www.derivative.ca/Plastikman/
Note: I don't normally post competition opportunities, but the following call is worth noting because it exposes a shift in remix culture:  the DJ and VJ hybrid.  Besides, I admit to being a Plastikman fan.
Derivative is pleased to announce the next-gen of their collaboration with techno-futurist Richie Hawtin who is unleashing PLASTIKMAN LIVE 2010 a much-anticipated series of live shows produced in collaboration with Minus & Derivative to launch at this year's Timewarp festival on March 27th, 2010.
The influential Plastikman performance at MUTEK 2004 was visually driven by Derivative's powerful software tool TouchDesigner enabling Richie to orchestrate sound and visual compositions generatively and in real time; the technology altering the course of how electronic music could be performed and experienced live.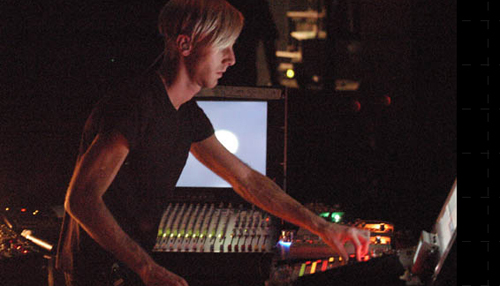 Image source: http://www.derivativeinc.com/Events/15-Plastikman/
That was then. With the current generation of TouchDesigner 077 completely reengineered, the team has built an information-rich bridge between Richie's Ableton Live rig and Derivative's TouchDesigner. Derivative will release the TouchDesigner-Live Bridge to its users this year. Hawtin's visual artist Ali Demirel has been working closely with Derivative's Jarrett Smith and Markus Heckmann in LA and Toronto to create the content and a custom performing interface for the shows.
Another Hawtin/Minus/Derivative collaboration invites the community to create their own visuals to original Plastikman tracks using TouchDesigner. Hawtin and Derivative have packaged and made available for download a complete toolset that includes a purpose-built TouchDesigner synth and 4 Plastikman tracks enabling participants with full support to produce visuals in the same real-time generative environment as the show's. Winning entries are to be incorporated into the live events.
Dedicated to advancing the way we make art and visualize information and ideas, Derivative has produced live visuals and interactive art projects for an exemplary roster of international superstars that include Prada, Herzog & de Meuron and Rush. They have also developed major theme park attractions globally. In a unique alliance with raster-noton now entering its second year Derivative designed and built an expandable framework for multi-screen live performances under the guidance of label founders carsten nicolai (alva noto) and olaf bender (byetone). The collaboration resulted in a series of shows last year at Club Transmediale, Sonar, MUTEK, OFFF, and Ars Electronica that were received as precedent-setting.
TouchDesigner is the most complete authoring tool for building interactive 3D art, visualizations, prototypes and user interfaces. Its open, broad and highly-visual procedural architecture boosts and expands discovery, creativity and productivity.
TouchDesigner FTE (Free Thinking Environment) and its counterpart TouchDesigner Pro puts a free development environment with an extremely rich feature set into the hands of artists, animators, educators and "everyone else". "TouchDesigner is our vision of what is possible in tomorrow's software tools for building interactive applications and exploring data, imagery and sound", Derivative founder and CEO Greg Hermanovic states. "It exploits what is possible in today's computing technology and is positioned to grow with the foreseeable advancements in computer, graphics and mobile technologies."