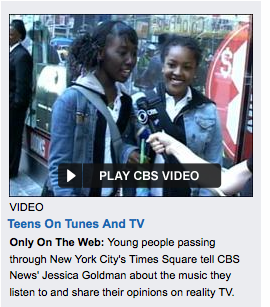 Image source: CBS 60 Minutes
Revising my evaluation of mashups led me to this journalistic piece from June 13, 2006 by Scott Conroy from 60 minutes.  It is mentioned here mainly for historical purposes, as some things discussed have obviously changed since the feature was produced.
——
Teens don't have to work very hard to be entertained anymore. Rather than trekking to the record store, they can buy their favorite music with a few clicks — and maybe try out something new while they're at it. Reality TV, the preferred genre of many, is always on the air. They don't even have to get up from their chairs to share photographs and gossip with friends.
American society has been assigning all-encompassing labels to generations of young people for a long time. The tendency to pigeonhole a diverse group of individuals is, in some respects, dishonest — not every Flower Child spent the '60s tiptoeing through tulips, and many members of Generation X surely thought flannel best confined to the realm of the lumberjack.
Read the entire feature at 60 minutes.