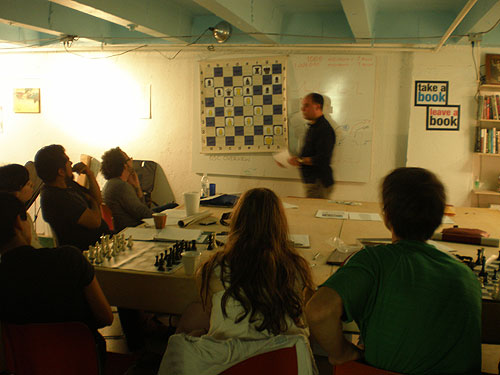 Image: Last Session of "Chess and Duchamp" a four part class led by Chess Master Mick Bighamian
On August 12 I dropped by Telix Arts Exchange to participate in the Public School's class titled "Chess & Duchamp."  I was not able to attend the previous three classes as I was not in Los Angeles at that time.  However, being a former Chess aficionado, who also developed quite a few art projects around the board game in part influenced by Duchamp, I was almost immediately in tune with the discussion that ensued around one of Duchamp's better known games against E. H. Smith in the International Tournement Hyeres, in January, 1928.
The analysis of the game was led by Chess Master Mick Bighamian, founder and director of the Los Angeles Chess Club.  It was quite a treat to have a game analyzed in detail.  Bighamian explained every possible option for each move on both sides of the board and theorized on how and why Duchamp won.
While I was at the Public School, I had the opportunity to catch up with its founder, Sean Dockray, who explained to me how activities at Telic have taken a life of their own.  What I found most fascinating was that the Public School is becoming a true resource with an unconventional spin on the education, at a time when more and more commercial educational institutions are being launched.  The Public School is a true antidote to both traditional university education as well as for-profit private universities.  Sean mentioned that The Public School now has landed a series of workshops with a few institutions, including UCLA's graduate program as a way to teach practical skills, such as Adruino and Processing programming to students who would not have access to this type of instruction in their own institutions.  "It's more like a form of outsourcing certain areas of education, to us" Sean commented.  This activity is actually presented and contextualized by Telic as a form of performance, a work of public art that takes place as exchange of knowledge and information.
The model has sparked such interest that now the Public School is developing satellite activities in Chicago, New York, Paris and Philadelphia. I asked Sean if The Public School had some form of manifesto, or mission, and he responded "no." And he explained that the basic drive to share information was at The Public School's core, as simple as that sounds.
By not having a specific mission, except to have an open platform to share information based on proposals by the community that supports Telic Arts Exchange, The Public School so far has avoided the usual conflicts that modest collaborative projects experience as they turn into a full on institution, such as how much to charge (the public school figures out a fair fee for each class from the very beginning).  It has been over a year at this point since the Public School started, and so far it appears to work as an organic set of activities, where people with diverse interests are encouraged to come up with subjects for classes. All they have to do is propose a class and if the proposer cannot teach the subject, then a search for a teacher takes place (this was the case with Chess and Duchamp); then, people can sign up and upon the discretion of Telic's directors, the class is scheduled.
The Public School takes much further gestures and strategies explored in the past by artists such as Tom Marioni and his Bar, where beer was served while people socialized, which he went on to call "art."  However, The Public School does not even need to be called "public art" or even "art."  Yet, anyone invested in public practice would do a disservice to themselves if they did not look into the evergrowing series of events taking shape at The Public School; a project that I'm more than certain will become an important part of the history of public art.