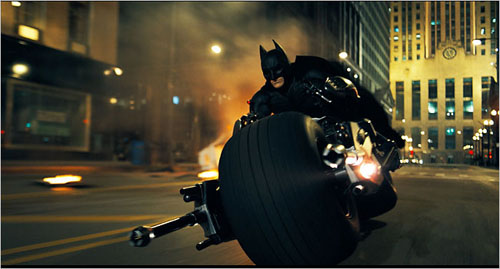 Image source NYTimes: Batman, Dark Night, Warner Bros. "Supporters say Blu-ray had a breakout year, crowned by "The Dark Knight," which sold 600,000 Blu-ray copies in one day."
Normally, I'm not so concerned with reflections on the old year at the beginning of the new. However, the NY Times article "Blu-ray's Fuzzy Future" exposed some of the tendencies that developed in 2008, which will become more pronounced in 2009.
The article entertains how Blu-ray, even after displacing HD DVD in the digital video market is currently struggling. Blu-ray's competitor this time is not another DVD based technology, but rather a networked technology. The Internet is Blu-ray's next competitor, as the article notes. The preoccupation of Blu-ray developers is that it is very likely that people will be moving towards machines that allow for movie downloads much in the format of On Demand services in cable networks across the United States. So, Blu-ray is introducing in the near future a feature that will allow people to download material from the Internet:
continued push for Blu-ray will be a central theme at the Consumer Electronics Show, as manufacturers introduce new players and continue to cut prices on older models. Analysts say they expect companies to announce more support for a feature called BD Live (as in Blu-ray disc live), which lets people download additional material from the Internet and interact with friends in text chats that appear on the television while playing a movie.
So, what I foresee will become ubiquitous in 2009 is the crossover of information from one format to another. Blu-ray players are becoming more like convergence devices (Henry Jenkins' concept); meaning that they will be more like iphones or Blackberry's than traditional DVD players. It would not be surprising if in a year from now a Blu-ray player is also able to offer Wii sports, or Xbox video games as part of its basic features. What is puzzling about this development is why call any machine a specific name if it is designed to do more than one thing? For iphone or any other basic communication mobile device this includes e-mail, gps features, music and video downloads, and web surfing. The current version of Xbox downloads not only games, which is primary service, but also movies. It appears that marketing devices as players, or phones, etc. will become more fuzzy as technology innovation demands for information crossover. This is clearly a challenge for marketing strategists.
While the machines are becoming multipurpose devices, the content, itself, is becoming detached from a specific format or form of delivery. Meaning that the information can be thought of as pure content and not as "content and form" as has been the case until the recent past. In other words, the coming generations will not develop fetishes for say, a music long play in vinyl format and the corresponding record players, or even a CD with its Jewel box and its CD player. Instead, people are likely to develop fetishes for the actual devices that provide access to ever growing information. Ultimately, future generations may not care about actually owning a copy of the game or movie, but rather buying permanent access to the material they find of interest. A clear example of this tendency is Amazon's Kindle. Time will define what will become of all these tendencies, but some of these elements are already making their way into our daily lives.