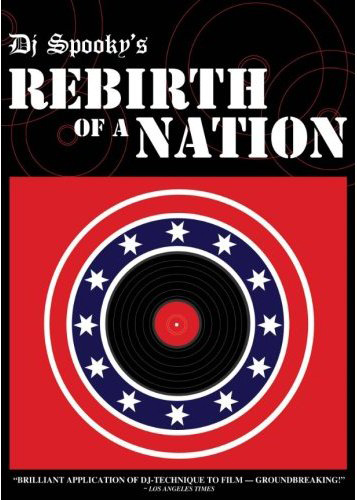 Image source: Amazon.com
More information about Rebirth of a Nation: http://www.rebirthofanation.com/
DJ Spooky has performed live Rebirth of a Nation, a remix of D.W. Griffith's Birth of a Nation in various parts of the world. The multi-faceted media performance deconstructs Griffith's historically important film to expose the politics of racism during and after 1915, the year when the original film was produced.
DJ Spooky is releasing a DVD version of Rebirth of a Nation on November 4 of 2008. The critically minded would not hesitate to think that the release date is not a coincidence, but rather a constructive move on Spooky's part to remind people that the upcoming presidential election is historically important. The United States has come a long way since the days when Griffith released Birth of a Nation, and on November 4, the title Rebirth of a Nation will take on a new meaning, for no matter what happens after the fourth, the United states will certainly enter a definitive new stage in its history.
Information about the Film and DJ Spooky's Biography follow below.
http://www.rebirthofanation.com/
http://www.djspooky.com/
———–
First released in 1915, D. W. Griffith's Birth of a Nation ignited worldwide controversy with its graphic depictions of racism and white supremacy in the post-Civil War south. Nearly 100 years later, Paul D. MIller- also known as conceptual artist/musician/writer DJ Spooky That Subliminal Kid- creates a daring 'remix' of Griffith's epic to expose the film's true meaning and relate it to the socio-political conflicts of America today. Originally commissioned as a live multimedia performance, Rebirth of a Nation- now featuring an original score by Miller performed by Kronos Quartet- is 'a DJ mix applied to cinema' that challenges our legacy of revisionist history as it deconstructs one of the most influential and inflammatory movies of all time.
DJ Spooky (Paul D Miller, born 1970, Washington DC) is a composer, multimedia artist and writer. His written work has appeared in The Village Voice, The Source, Artforum and Rapgun amongst other publications. Miller's work as a media artist has appeared in a wide variety of contexts such as the Whitney Biennial; The Venice Biennial for Architecture (2000); the Ludwig Museum in Cologne, Germany; Kunsthalle, Vienna; The Andy Warhol Museum in Pittsburgh and many other museums and galleries. His work "New York Is Now" has been exhibited in the Africa Pavilion of the 52 Venice Biennial 2007, and the Miami/Art Basel fair of 2007. Miller's first collection of essays, entitled "Rhythm Science" came out on MIT Press 2004, followed by "Sound Unbound," an anthology of writings on elctronic music and digital media, published in 2008.
Miller's deep interest in reggae and dub has resulted in a series of compilations, remixes and collections of material from the vaults of the legendary Jamaican label, Trojan Records. Other releases include Optometry (2002), a jazz project featuring some of the best players in the downtown NYC jazz scene, and Dubtometry (2003) featuring Lee 'Scratch' Perry and Mad Professor. Miller's latest collaborative release, Drums of Death, features Dave Lombardo of Slayer and Chuck D of Public Enemy among others. He also produced material on Yoko Ono's new album "Yes, I'm a Witch."
Lascia un commento
You must be logged in to post a comment.