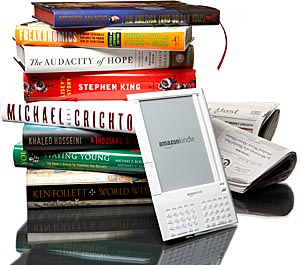 Image and text source: Wall Street Journal
Published on May 19, 2008; Page A13
Note: Also see the comment written against this article titled, Books Have a Bright Future, Not Just a Digital One
After a long hiatus, online bookseller Amazon is back trying to encourage us to read in a new way. Its Web site now features this description of its Kindle reading device: "Availability: In Stock. Ships from and sold by Amazon.com. Gift-wrap available." This good news for consumers comes after the first batch of the devices sold out in just six hours late last year.
This seems like a fitting time to ask: If the Internet is the most powerful communications advance ever – and it is – then how do this medium and its new devices affect how and what we read?
Aristotle lived during the era when the written word displaced the oral tradition, becoming the first to explain that how we communicate alters what we communicate. That's for sure. It's still early in the process of a digital rhetoric replacing the more traditionally written word. It's already an open question whether constant email and multitasking leaves us overloaded humans with the capability to handle longer-form writing.
Read the entire article at Wall Street Journal
Lascia un commento
You must be logged in to post a comment.