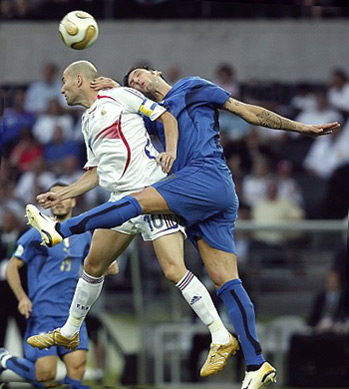 Cities Turn to Temporary Arenas To Help Offset the Soaring Cost Of Hosting Big Sporting Events
By MIKE ESTERL
Originally posted on July 12, 2006
Text source: Wall Street Journal
Image source: FIFA World Cup 2006 Photo Gallery
BERLIN — Nearly 10,000 fans packed a new stadium here to watch Italy best France in the world cup final sunday.
But there were no brilliant saves by Italy's Buffon on the field there, no ignoble red card for France's Zidane. And, in a few weeks, there will be no stadium, either.
It is the latest incarnation of an increasing trend for hosts of world-class athletic events: the disposable arena. Designed to be taken down after the quadrennial soccer tournament ended, the Berlin stadium was a scaled-down replica of the storied Olympiastadion across town where the real final was played. Spectators watched the championship match on a huge TV screen at each end of the field.
World Cup sponsor Adidas AG built the temporary stadium for about €5 million (about $6.4 million) to flag its brand to soccer aficionados unable to secure or afford tickets for the actual games. Tickets sold for €3 — not the €120 to €600 that fans forked over for the final, which had long been sold out.
Read the rest of this entry at The Wall Street Journal.
Lascia un commento
You must be logged in to post a comment.