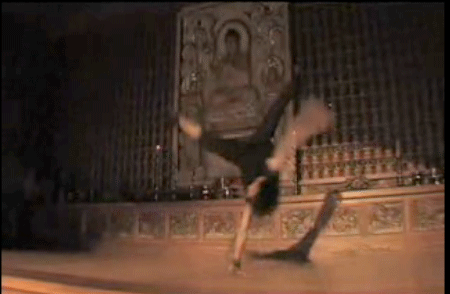 Image source: Youtube, still from Planet B-Boy Excerpt
Planet B-Boy website: http://planetbboy.com
I just saw Planet B-Boy, directed by Benson Lee at Ken Cinema, in San Diego. I was hoping to get more of a historical overview about B-Boying, similarly to how Scratch, by Doug Pray, took a historical survey of turntablism but this was not the case. The film does provide a brief history of B-Boying in the United States, then quickly shows how it became a global movement. The cooption of Breakdancing by the media is briefly mentioned, to then move to 1991, when an annual B-Boy competition was started in Germany which today is globally recognized. The actual investment of the film, however, is not in B-Boying globally, but B-Boying in South Korea. They're the best, as far as I can tell–something I knew before I saw the film–and this film was made to prove just that.
Anyone who views Planet B-Boy on the big screen will not be disappointed. All the crews, even those from Latvia, and Greece, make brief but impressive appearances. But in the end, I was left with the desire for a film that is truly sensitive to the global power of Breakdancing. What Planet B-Boy does show is that hip hop is no longer U.S. centric; today, it is owned by the world, just like soccer. A concise historical film about Breakdancing as a global movement is yet to be made. Planet B-Boy does not come close to that, but it will have to do for now.
Following some B-Boy moments from Youtube:
Landmark Shots from Around the World:
http://www.youtube.com/watch?v=gfq2Zwr0ABM&feature=user
Excerpt from the film focusing on Korea:
http://www.youtube.com/watch?v=gNh6qpsuo58
Planet B-Boy, France:
http://www.youtube.com/watch?v=CeYzfazXUZ0&feature=user
Knucklehead Zoo:
http://www.youtube.com/watch?v=KuScZjuVTE4&feature=user
Early Battle:
http://www.youtube.com/watch?v=sn7AQf9JqH0&feature=user
Lascia un commento
You must be logged in to post a comment.