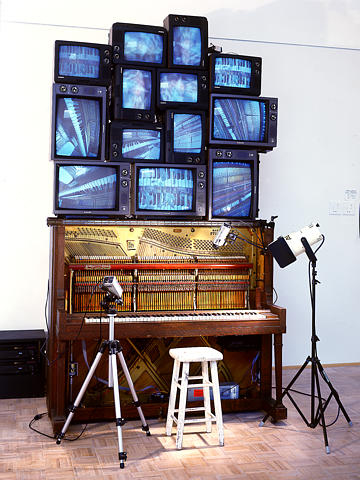 Image source: Albright-Knox Art Gallery
Originally published on ArtForum,  April, 2006  by John G. Hanhardt
Text source: Bnet
DO YOU KNOW….?
How soon TV-chair will be available in most museums?
How soon artists will have their own TV channels?
How soon wall to wall TV for video art will be installed in most homes?
–Nam June Paik, A New Design for TV Chair, 1973
THE CULTURAL SIGNIFICANCE of Nam June Paik–who died at his home in Miami Beach on January 29–is clear in the expressions commonly used to describe his unique role in transforming the nascent medium of video into a contemporary art form, from the "father of video art" to the "George Washington of video." It is incredible to think that an entire decade before Paik predicted the ubiquity of video technology in A New Design for TV Chair, he was featuring his "prepared," or altered, televisions in solo exhibitions. And as we become the media culture he envisioned in his artwork and writings, we can see how the range of Paik's creative accomplishments and both the prescience and breadth of his thinking–in a practice unlike anything that preceded him–are all the more astonishing. From his early performances to his work in music, television, video, and film, Paik was constantly in action, exploring and expanding the horizons of art.
Read the entire article at  Bnet
Lascia un commento
You must be logged in to post a comment.