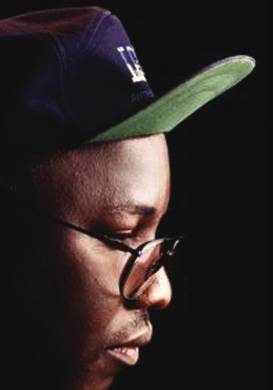 Image source: Music Club
Text source: Rootsworld
Original publication date: unknown
Popular music has a long history of aural innovators, from Brian Wilson and his downward spiral to Phil Spector's wall of sound. They are often romanticized as shadowy knob-twiddling visionaries who through mixing boards and miles of cable added new worlds to stereophonic sound. Reggae music, with an admittedly limited rhythm structure, has been propelled forward by it's own pioneers, with Lee "Scratch" Perry and the Mad Professor holding top rank. In their own unique ways, both have created indelible catalogs of hit reggae albums, sonic experiments, and plenty of wicked bass heavy dub, traditionally the instrumental B-side or "version" of a popular song spliced and diced into a teeth-rattling art form all its own.
The two are from different generations and continents, yet both Professor and Perry walk the same twisted line. Both are passionate for electronics (Professor built his own mixing board as a teenager while Perry pushed four track recorders beyond comprehension), both built their own record company from the ground up (Ariwa / Black Ark), and both have produced music for a surprising range of artists including Massive Attack, U-Roy and the
Orb (Professor) to The Skatalites, The Clash and the Beastie Boys (Perry).
Read the entire article at Rootsworld
Lascia un commento
You must be logged in to post a comment.