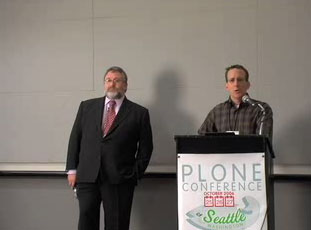 Image and text source: Archive.org
Eben Moglen's keynote address, titled "Software and Community in the Early 21st Century" presented at Plone Conference 2006 on October 25, 2006 in Seattle, WA.
In this inspiring lecture, Professor Moglen weaves together the industrial revolution, the knowledge economy, the free software movement, the One Laptop Per Child project and the long struggle for human dignity and equality.
Eben Moglen is Chairman of the Software Freedom Law Center, Professor of Law and Legal History at Columbia University Law School, and General Counsel of the Free Software Foundation.
MP3 and Ogg (audio only) versions of this talk are also available. Click on the FTP or HTTP "all files" links at left.
This item is part of the collection: Open Source Movies
Director: Grace Stahre
Producer: ONE/Northwest & The Plone Community
Production Company: Versant Media
Audio/Visual: sound, color
Language: English
Keywords: open source; eben moglen; plone; plone conference; politics; free software
Contact Information: For more information about Plone contact the Plone Foundation, http://www.plone.org. For more information about the Software Freedom Law Center, see http://www.softwarefreedom.org
Creative Commons license: Attribution-ShareAlike
Lascia un commento
You must be logged in to post a comment.