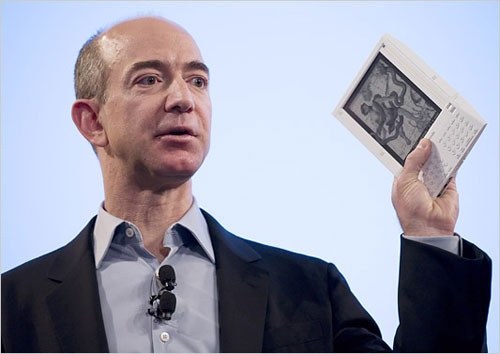 Jeff Bezos, Amazon's founder and chief executive, introduces its new e-book, called Kindle (Mark Lennihan /Associated Press)
Image and text source NYTimes.com 
November 19, 2007
Amazon.com introduced its electronic book reader today at a packed event in New York. Unlike other products in this area, Amazon's $399 Kindle is designed to be used without ever connecting to a computer. Instead it has a wireless Internet connection that lets users browse Amazon's online store on the device and download a book in less than a minute.
Amazon is trying to do for books what Apple has done for music. It has linked its device tightly to its own online bookstore, just as the iTunes music store is tied into the iPod. Amazon has 90,000 titles for sale at launch, including books from all major publishers.
Best sellers and new releases will cost $9.99. That represents a substantial savings off of Amazon's already discounted prices. Amazon is currently selling hardcover bestsellers for roughly $13 to $20 and trade paperbacks for $8 to $11.
Read the entire article at NYTimes.com 
Lascia un commento
You must be logged in to post a comment.