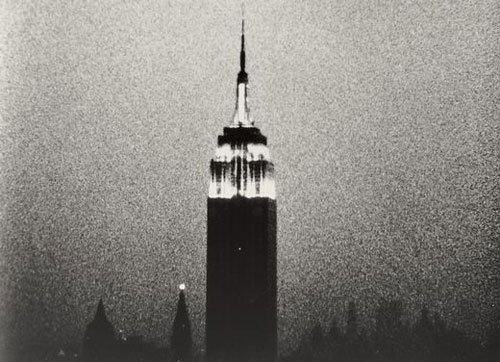 Image and text source: Greg.org
Originally posted on September 14, 2007
Wait, the Warhol Museum called the 1-hour excerpt of Empire released on DVD an unauthorized bootleg?
Yes they did, in 2004:
"It's a bootleg!" says Geralyn Huxley, a curator at the Andy Warhol Museum in Pittsburgh.
Which is odd. The Italian company Raro Video has released several Warhol films on DVD over the last couple of years. Andy Warhol: 4 Silent Movies is listed as a 2005 release on Amazon, and there's a Chelsea Girls DVD, too.Last year, Raro compiled 11 films and 8 discs into a box set, Andy Warhol Anthology, which–like all the films–is issued in region-free PAL format. There are extensive bilingual notes, interviews, and bonus material accompanying the discs, but there are also odd errors in formatting:
At least two of the silent films, Kiss and Blow Job, are mastered at the wrong speed [25fps instead of 16fps], and the once-randomly silent or audible soundtracks on the split-screen Chelsea Girls are provided in a single, seemingly arbitrary configuration which omits much well-documented dialogue.
Read the entire entry at Greg.org
Lascia un commento
You must be logged in to post a comment.