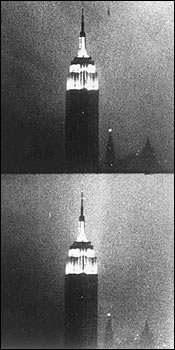 Image and text source: New York Magazine
Published on November 22, 2004
At eight hours, Andy Warhol's 1964 film Empire is something that one watches, as its creator said, "to see time go by." Officially, the only way to see the artist's epic stationary shot of the Empire State Building is to borrow a 16-millimeter print from MoMA or attend one of the museum's infrequent screenings (there's one on November 20). But a one-hour edit appears on a new Warhol-film DVD, Four Silent Movies, released by the Italian company Raro Video. "It's a bootleg!" says Geralyn Huxley, a curator at the Andy Warhol Museum in Pittsburgh, which owns the artist's films. Raro says the disc is authorized; the museum disagrees and, says Huxley, may sue.
The qualities that make Empire a precursor to reality TV—no script, elevation of the mundane—would seem to encourage sampling. But defenders of the film (which Warhol slowed down; shot at 24 frames per second, it's projected at 16) say it simply can't be cut. "It's conceptually important that it's eight hours long," says Callie Angell, director of the Whitney's Warhol Film Project. "Some people show it at the regular sound speed to make it go by faster, and I just think that's not the film." Seeing the whole thing offers surprises, she adds. "[Warhol and Jonas Mekas] were shooting it from the office of the Rockefeller Foundation in the Time-Life building, and when they changed the reels they'd turn the lights on. In three reels, they started before they turned the lights back off, so you can see a reflection of Warhol and Mekas in the window. No one had ever mentioned that before. Probably no one ever had sat through the whole thing."
Lascia un commento
You must be logged in to post a comment.