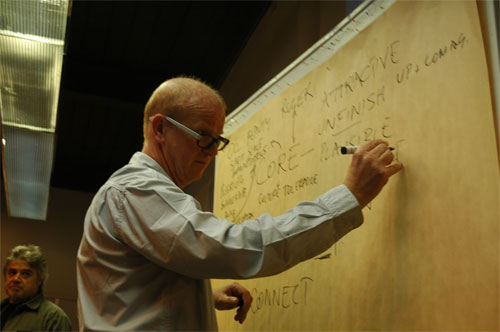 Charles Leadbeater in Action at Providence New Commons
Image by Christopher Reyes
Image and text source: CEOs for Cities
Originally posted on 5-24-07
We are being hosted by CEOs for Cities member Doug Kridler at The Columbus Foundation this afternoon. Thirty locals from business, health care, nonprofits, government, and philanthropy have gathered to work through Charlie's ideas using their own experiences.
Charlie has gone right to the point: How do you orchestrate contributions by large numbers of people to solve problems? Is it possible to attack the opportunities and challenges the way Google or
eBay would attack them?
Think of an egg. For any issue area, there is a small core of that egg that represents the institution, such as police, schools, hospitals, performing arts centers. But the rest of that egg is outside the institution – learning, safety, health, culture. While the institution is fixed cost and hierarchical with budgets and
buildings, the rest of the egg is fuzzy and distributed and complex.
Who is responsible for the rest of the egg? No one. And the only way to influence the rest of the egg is through open source, collaborative work.
A study of eBay shows that it is easy to use and contribute, it is built on communities of interest (the core is eBay the company, but the rest of the egg is eBay the community), and eBay offers no answers, but does offer tools to its users so they may get their own answers.
So, again, how do you attack the problem like eBay? How do you orchestrate contributions by lots of people to solve problems?
As the discussion begins, CEOs for Cities member Bob Milbourne, who leads the Columbus Partnership, suggested that vouchers may be tools that encourage greater contributions. Yet, they are fought by the institutions we call schools. How do you keep these new approaches from being killed by the institutions that feel so threatened by them?
Sherri Geldin, Director of the Wexner Center for the Arts, asked, "How do you take social challenges much more complicated than eBay and create a platform that works?"
Charlie's response was to tap into existing motivations. How do you motivate children and parents to want to learn? That's probably as important as quality teaching. Without understanding users' motivations, it is unlikely that you will design an effective platform. If you start with what users are interested in first and use that as an interface to get people into conversations, a good answer will likely result.
Lynn Greer, who co-chairs The Columbus Foundation's Greer Foundation, urged us to think about breakthrough change. All of our systems are imploding on themselves. Incremental change is not enough. We think of education happening in a box. But young people don't. How do we move to breakthroughs rather than incrementalism?
County Commissioner Paula Brooks pushed back. "The county provides social services. What happens when we merge getting the expert advice with self-determination?"
Charlie responded, "It doesn't mean you do away with professional engagement and risk assessment. But if you think about addiction, you know that unless you find the user's motivation to get better, you'll
just have a continuing cycle of addiction and treatment.
"We are stuck with public systems that are dysfunctional but familiar. What I am proposing seems riskier, but the pay-offs can be much bigger. But clearly if you just give money to people without support, without a plan, you'll have a mess. But with support and with a plan, we can get something much better."
Doug Kridler: "I don't feel like the question is how we become enlightened and create this. The question is, are we going to be smart about how we tap into it? Because it's already out there.
"We're not fully used to the fact that this is our time. Are we going to leave the community a better place or are we going to wait for the people to show us the way?
"This is a reality that people are communicating this way."
Nancy Kramer, Founder and CEO, Resource Interactive: "To underscore Doug's comments, it is important to recognize that this is here. This is a tidal wave that we will ride successfully, or it will wash over us. It is a matter of how we are going to navigate this world."
Pat Loskinski, Executive Director, Columbus Metropolitan Library: "People are more involved than ever before. It's just not happening at the Kiwanis Club. We have to understand that this is boundryless."
Health empowerment zone. How do we uncouple the resources we do have? And how do we help them get resources from other places? How to reate the pressure to get the resources closer to people?
Paul Bonneville, who founded ColumbusRetroMetro, urged us to put Connect at the top of the list. There is a gap in understanding and using the technology available to connect people.
Curt Steiner, Senior Vice President for University Relations, The Ohio State University: "If you provide cash to people they show up. We pay people at Ohio State to engage in health practices. People show up to give blood for a fee. How can we use rewards to motivate people to participate? How can we get institutions to collaborate to do the best thing for the community? They have no incentive to do it. But they ought to. The motivation likely will have to come from outside
the institutions."
Michael Wilkos: "The lack of civic and public space in so many of our neighborhoods is a problem. Virtual space is no substitute. People in neighborhoods are not connected through church or work. How do you
build community in our post-WWII lives?"
Bob Milbourne: "These are not mutually exclusive. The Internet is powerful. One theme of this is the solution to all of these problems we are trying to grapple with – how do we attract technology workers, retain young people – will involve technology. If we all spent more time using the Internet to connect to all of these people, we would be better off."
Doug Kridler: "Good ideas can come from everywhere. They are not the exclusive province of those in skyscrapers. And we need good ideas in order to thrive. They won't be shared by people who have them if there is not trust. One does not engage in the effort if there is not trust. The role of the convenor is still important. We're not going to text message our way to community progress. What if we were to set
forth the idea of becoming the listening capital of the world? If the premise stated earlier that to get to creativity you need communication and you need creativity to get to progress. And to have
communication, you need trust."
What if each of our institutions became the best institution in its field in listening?
Nancy Kramer: "Read (and absorb) Kevin Kelly's article on Wired on retrospective of Internet as a source of inspiration. It lays the groundwork for the network part of the conversation."
Lascia un commento
You must be logged in to post a comment.