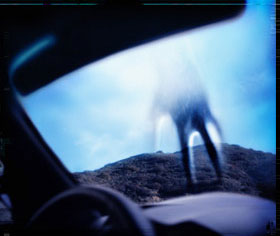 Image source: yearzero.nin.com
Note: Below are a couple of comments on Nine Inch Nails' current project, which consists of inviting fans and music enthusiasts to mashup one of NIN's new songs "Survivalism" to their hearts' content. This project is welcomed and reminiscent of the pioneering project A Bush of Ghosts by Brian Eno and David Bowie. Also see: http://bushofghosts.wmg.com
———-
"Nine Inch Nails Invites Mashups," by Jonathan at Ampheteme.org
Text source: Amphetameme.org
Published on 3-26-07
Trent Reznor's inviting you to mash-it-up. He invites you to go absolutely nuts with his latest creation, the tracks that come together to make the song "Survivalism". Feel free to interpret the tracks any way you wish he says, and add your own. And he's asking you (because of his partnership with Apple I presume) to use Garageband. I don't mind. Garageband 3's one pretty damn cool piece of work. At any rate, I'm a big NIN fan and I'm happy to see him once again inviting remix interpretation. Pick up all the details at yearzero.nin.com.
———-
"A mashup on Garageband takes music experiences to a new level," by Stephen Abbott
Text source: projectopus.com/
Published on 3-26-07
Trent Reznor of Nine Inch Nails is pushing the boundaries of a music experience to new levels. According to an article in Digital Music News, Reznor is making a single from the upcoming album, Year Zero, available for "remix interpretation". The interesting twist to this is that it is being done in a sort of collaboration with the latest release of Garageband 3, part of Apple's iLife suite.
Garageband users can adjust a number of tracks that make up "Survivalism," and add their own elements as well. Once created, the tracks can be shared, ripped and distributed at will. According to an Apple representative, other songs from the album are also on the way.
The ability to share and distribute the personal remixes is huge. Perhaps ability is the wrong word – the encouragement to distribute these remixes is incredible. The artist is giving open permission to use his work. There could be literally thousands of interesting and unique interpretations of NIN's musical talent. Of course, there are going to be many more versions that suck, but those will fade away soon enough.
So – when the band goes on the road, the guys can listen and pull from different interpretations and create alternative live performances based on what his fans hear in the songs. "Hey Albequrque, this is Survivalism from Dave B. here in town. You might know him." Crowd goes wild (after all – this isn't some cheap cover act doing a bad immitation, this is still the band they love), and Dave is immortalized for a night (at least in his mind).
As a fan I am excited about the new possibilities. More and more creative tools are being simplified and brought to the masses. Now almost anyone can churn out a basic pop song with little more than a home computer and a minimum of musical inspiration. Of course, this is challenging artists to find new ways to engage us, and the strong will survive. Artists that relied on the magic that the tools provided will struggle to find their place, while artist who use the tools merely to expand on powerful ideas, sights and sounds will thrive.
If you interested in the tracks for Survivalism, look here.
Lascia un commento
You must be logged in to post a comment.