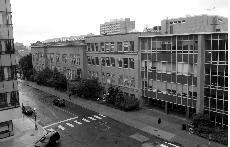 A view of the front side of the Frieze Building. (ALI OLSEN/Daily)
Image and text source: The Michigan Daily
Published: 9/13/06
niversity President Mary Sue Coleman and the other administrators were right to delay the North Quad project, choosing to perfect its architecture rather than accepting a mediocre design. The project's completion may be pushed back a year, but the permanence and importance of this building will affect generations of students, faculty and Ann Arborites for decades to come. This structure is to be the gateway to Central Campus from the north, yet the recent March proposal from architecture firm Einhorn, Yaffee, Prescott showed a lackluster building, both piecemeal and uninviting. Most importantly, the proposed renderings did not express an externally unified charisma to harbor the building's innovative interior.
In July, the University hired Robert A.M. Stern Architects to redesign North Quad while keeping Einhorn, Yaffee, Prescott on to retain the integrity of the interior programming. With this decision, the University is poised to get more of, if not exactly, what they want for North Quad. Time and time again, Robert A.M. Stern Architects have proven that they are masters at adapting to context while providing traditional, distinguished architecture.
Read the entire article at  The Michigan Daily
Lascia un commento
You must be logged in to post a comment.