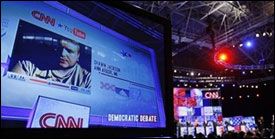 Text and image source: The News Hour
Note: We are definitely entering a new stage of mass opinion.  The fact that Youtube is playing a role in the next U.S. elections demonstrates the ease incorporation of web 2.0 in mainstream culture: the individual can apparently express opinions and be heard like never before, but how effective is this, really?  The analysts interviewed in the feature below express the outcome to be more or less business as usual as most candidates got to promote their own agendas, while immersing in new media culture.   
Democratic presidential hopefuls fielded questions directly from the voters Monday in a debate sponsored by CNN and the video sharing Web site YouTube. A reporter and political analyst discuss the candidates' answers and new debate format.
GWEN IFILL: It was yet another candidates' forum, but last night, the questions came from Internet-savvy Democrats.
REMY MUNASIFI, McLean, Virginia: My taxes put some kids through college, I can't afford to send myself. Now, tell me, if you were elected president, what would you do to help?
GWEN IFILL: YouTube, the wildly successful Internet video-sharing service, joined with CNN to host the debate at the Citadel in Charleston, South Carolina. CNN screened 3,000 submissions. The ones that aired ranged from serious and emotional…
Read the entire feature at  The News Hour
Lascia un commento
You must be logged in to post a comment.