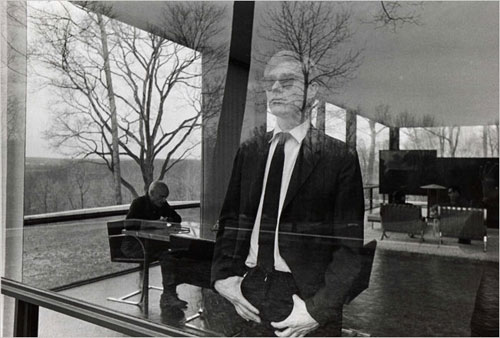 Photo credit: David McCabe
Image and text source: NY Times
June 7, 2007
WHEN Philip Johnson's Glass House in New Canaan, Conn., officially opens to the public on June 21, paying visitors will have a chance to explore one of the world's most celebrated works of Modernism for the first time since its completion in 1949. The diminutive glass-and-steel building and its uncluttered interior, which have barely changed in 58 years, are so spare that it is hard to imagine that anyone ever lived there. But for nearly all that time, it was the constantly used country retreat of its round-spectacled creator, who shared it after 1960 with David Whitney.
For Mr. Johnson, pictured in 1964, and his companion, David Whitney, the Glass House was a comfortable retreat from the world.
Read the entire article at NY Times
Lascia un commento
You must be logged in to post a comment.