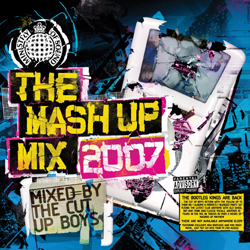 Image and text source: Discogs
Note: This is definitely one of the most nostalgic mashups I've encountered so far. It features some important and popular songs since the eighties, and the best part is that it's non-linear; jumping from one time period to the next, all in the name of the right [re]mix. "Rhythmic modularity" is what I call this type of aesthetic which disregards linear history.
Label: Ministry Of Sound
Catalog#: MOSCD135
Format: 2 x CD, Mixed
Country: UK
Released: 19 Feb 2007
Genre: Electronic, Hip Hop, Pop
Style: House, Hip Hop, Trance
Credits: DJ Mix – Cut Up Boys
Notes:
Rating: 5.0/5 (2 votes) Rate It
Submitted by: DukeD
Tracklisting:
1.01A Timbaland Cop That Shit
Featuring [Rap] – Missy Elliott
1.01B A-Skillz + Krafty Kuts Gimme The Breaks
1.01C Fatback Band, The (Are You Ready) Do The Bus Stop
1.02A Chubb Rock Treat 'Em Right (Chubb Mental)
1.02B Roots Manuva Witness (1 Hope) (Acappella)
1.03A Rob Base & DJ E-Z Rock It Takes Two
1.03B Booty Luv Boogie 2Nite (Acappella)
1.04A Fatboy Slim Right Here, Right Now
1.04B Beatfreakz Freakshow (Acappella)
1.05A Doug Lazy Let It Roll 2K (Acappella)
1.05B Sugar Bear Don't Scandalize Mine
1.06A Farley "Jackmaster" Funk Love Can't Turn Around (Acappella)
1.06B FPI Project Rich In Paradise
1.06C Bizarre Inc Playing With Knives (Acappella)
1.07A Firefox (3) Sex Shooter (Instrumental)
1.07B Chanel My Life (Acappella)
1.08A Southside Hustlers Right Before My Eyes
Producer – Carl Kennedy , Johnny Gleeson
Remix – Hoxton Whores
1.08B Philippe B. vs. Todd Terry Can You Feel It? (Can You Party)
1.08C Camille Jones vs. Fedde Le Grand The Creeps (Acappella)
1.09A Dave Armstrong Make Your Move (Dare Me)
1.09B Freemasons Rain Down Love
Remix – Freemasons , Walken (2)
Vocals – Siedah Garrett
1.10A BeatFreakz Somebody's Watching Me (Instrumental)
1.10B Dennis Christopher It's Not Right (Acappella)
1.10C Junior Jack E Samba (Acappella)
1.10D Outwork Elektro (Club Mix)
Vocals – Mr. Gee
1.11A Sharam* PATT (Party All The Time) (Tocadisco's Bombenalarm Mix)
1.11B Aaron Smith Dancin' (Acappella)
Featuring – Luvli
1.12A Tyken Every Word (Vocal Club Mix)
Featuring – Awa
1.12B Mind Electric Dirty Cash (Money Talks) (Acappella)
1.13A Who's Who? Not So Dirty (Phillipe B Mix)
1.13B BM Dubs Presents Mr Rumble Feat. Brasstooth & Kee Whoomp! …There It Is (Acappella)
1.14A Oakenfold* Sex N' Money
Featuring [Vocals] – Pharrell Williams
Remix – Benny Benassi
1.14B Tom Novy & Lima Take It (Closing Time) (Acappella)
1.15A Plump DJs Electric Disco
Remix – D. Ramirez
1.15B Fatboy Slim Champion Sound (Acappella)
1.15C Bump I'm Rushing (Acappella)
1.16A Enur* Calabria
Remix – Hoxton Whores
1.16B DJ Jose Stepping To The Beat (Acappella)
1.17A Roman Flügel Geht's Noch?
1.17B Delano & Crockett Walking On The Moon (Acappella)
1.18 Eric Prydz vs. Floyd* Proper Education (Club Mix)
1.19A Mylo In My Arms (Tocadisco's "Zwischen Den Stühlen Mix")
Remix – Tocadisco
1.19B Ron Carroll Presents RC Groove Project, The The Sermon (Acappella)
1.19C Who Da Funk Shiny Disco Balls (Acappella)
Featuring [Vocals] – Jessica Eve
2.01A Powers That Be vs. Roland Clark Planet Rock (Acappella)
2.01B Fireflies Feat. Alexandra Prince I Can't Get Enough (Ian Carey Dub)
2.01C Ben Macklin Feel Together (Acappella)
Featuring – Tiger Lily
2.02A Fedde Le Grand Put Your Hands Up For Detroit (Dub Mix)
2.02B M.A.R.R.S.* Pump Up The Volume (USA 12″ Mix)
2.03A Johnny Crockett E For Electro (Hi_Tack's Club Mix)
2.03B Grandmaster Flash The Message (Acappella)
2.04A Supermode Tell Me Why
2.04B Loleatta Holloway Love Sensation (Acappella)
2.05 Mason (5) vs. Princess Superstar Perfect (Exceeder)
2.06A Soul Of Man Sukdat
Vocals – Hiphop Candy MC, The
2.06B Blaze My Beat (Acappella)
Vocals – Palmer Brown
2.06C Switch A Bit Patchy (Acappella)
2.07 Freaks The Creeps (You're Giving Me) (Vandalism Mix)
2.08A TV Rock Flaunt It (Acappella)
Vocals – Seany B
2.08B Martin Solveig Rocking Music (Acappella)
2.08C Slyde Vibrate To This (Acappella)
2.09A Da Hool Meet Her At The Love Parade
2.09B Rocket Men Candy (Radio Edit)
2.09C Electric Six Gay Bar (Acappella)
2.10A Abel Ramos Electro Fun
2.10B Happy Clappers I Believe (Acappella)
2.10C Southside Spinners Luvstruck
2.11A Cosmic Gate Fire Wire
Remix – DJ Scot Project
2.11B Jinny Keep Warm (Acappella)
2.12A Public Domain Love U More (Public Domain's Dirty Tech-Trance Vocal Mix)
2.12B Caramel Club, The Mama Say Mama Sa (Acappella)
2.12C Dennis Christopher Soulshakin' (Acappella)
2.13A Mauro Picotto Lizard (Megavoices Mix)
2.13B 666 D.E.V.I.L. (Acappella)
2.13C A.T.F.C* Presents Onephatdeeva In And Out Of My Life (Acappella)
2.14A Marco V Red, Blue, Purple
2.14B Bob Sinclar & Cutee B Rock This Party (Everybody Dance Now) (Bobby Blanco Club Mix)
Featuring – Big Ali , Dollarman , Makedah
Vocals [Lead Ragga] – Dollarman
Vocals [Mc Animation] – Big Ali
2.15A Fatboy Slim Star 69 (What The F**k) (Acappella)
2.15B DJ Jose Stepping To The Beat (Panic Dub Remix)
2.15C Cascada Miracle
2.15D Indeep Last Night A DJ Saved My Life (Acappella)
2.16 Prodigy, The Voodoo People
Remix – Pendulum (3)
Lascia un commento
You must be logged in to post a comment.