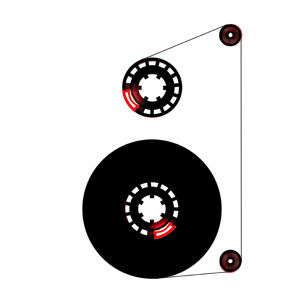 Image source: http://www.civilunrest.biz/
Text source: http://makerfaire.com/cj/
Originally learned about it at Rhizome.org
Note: This announcement is so good as as an idea recalling the good ol'days, that it's worth keeping around for nostalgia's sake. (But I admit I keep it here for the sake of my ongoing archive.) I can't think of a DJ from the 80's who didn't start out mixing tunes with a tape-player. I did, and it improved my skills on the ones and twos once I could afford to buy them. I do know of another CJ Championship organized by Beige: 2004 BEIGE Cassette Jockey World Championship. Below is the announcement:
2007 Cassette Jockey World Championships
*** CALL FOR COMPETITORS ***
CALLING ALL: Cassette Jockies… Retro-Tech Lovers… Magnetic Media Monsters… Circuit Benders… Multi-Media DJs… Walkman Hot-Rodders… we want you at the:
2007 CASSETTE JOCKEY WORLD CHAMPIONSHIPS
at the Make Magazine Maker Faire!
In 2003 at a festival in Chicago, a group of retro-tech geniuses organized The Cassette Jockey World Championships. Like the popular DJ (Disk Jockey) competitions with record-toting DJs showing off their turntable skills, the CJ Championships showcases skills and styles in the venerable world of cassettes. Since CJs were encouraged to hot-rod their own equipment, eviscerated boomboxes, disembodied tape heads, and overclocked Walkmans were the weapons of choice… anything that used the standard cassette as its ammo.
Now, in 2007, we're hijacking the battle and hauling it to the west coast!
Forget DJs, this is for the CJs: The Cassette Jockey Championship is where YOU can show off your skills as a world-class CJ. This is your chance to show the world what the venerable and once-mighty cassette tape is capable of. The CJ who amazes the judges with their skill, technique, and knowledge will become the 2007 CASSETTE JOCKEY CHAMPION!
The Rules
1. One (1) Cassette Jockey at a time – no teams.
2. Competitors are ENCOURAGED to create or alter their own cassette tape decks/players/recorders/etc. to compete on. However, some stock cassette equipment will be provided at the competition.
3. Standard cassette tapes ONLY – no mini-cassettes or 8-Track tapes.
4. Cassettes used MUST be published, pre-recorded, "store-bought" cassettes for source material – No dubbing of CDs/LPs/8-Tracks/MP3s to tape, home recordings, battle cassettes, or found sounds are allowed.
5. Spliced tapes/tape loops are allowed. (But remember Rule #4.)
6. Live microphone usage and live feedback are allowed.
7. Headphones are allowed (supplied by competitor).
8. Competitors may use no more than six (6) cassette devices.
Competition
Competition will be Saturday, May 19, 2007 at the Maker Faire (admission/ticket required). The competition begins at 1pm with an Elimination Round, with each competitor given three (3) minutes to compete. Each will be scored by a panel of judges based on the criteria described below. The top five (5) scoring Cassette Jockeys will progress to the Final Round at 5pm. During the Final Round, each competitor is given five (5) minutes to compete. As before, each will be scored by the judges. The highest scorer is the winner, and receives a prize package and the title of Cassette Jockey World Champion!
Judging
A panel of judges will score each competitor in each round based on the following criteria:
1. (10 Points) Content. Techniques, musical ideas, and exploitation of the cassette medium.
2. (10 Points) Form. Performance style, transitions, overall set structure.
3. (5 Points) Intangibles. Bonus score for anything else the judge deems worthy.
Entry
For an entry form and up-to-date information about the 2007 Cassette Jockey World Championships, send an email to:
cjchampionships@gmail.com
Entry Fee: $20 (payable at contest; does not include entry to Maker Faire)
Lascia un commento
You must be logged in to post a comment.