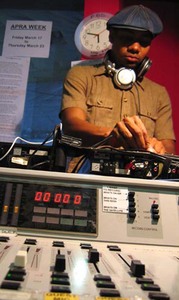 Miller: "… ['Nation' is] one of the cornerstones of American cinema."
Text and Image source: Philadelphia Daily News
Apr. 11, 2007
THE FAMILIAR image of the DJ hunched over a pair of turntables doesn't quite describe the innovative approach of Paul Miller, aka DJ Spooky, That Subliminal Kid.Where other DJs remix songs, adding beats and blending melodies, Miller remixes culture in his style-blending music and as a writer, producer, critic, philosopher and multimedia artist.
On Friday at Rutgers-Camden, he'll present his multimedia performance "Rebirth of a Nation," bringing the art of the remix to one of history's greatest and most controversial films, "Birth of a Nation."
"Cut, splice, scratch – it's all about editing," explained Miller about transferring his DJ techniques to a visual medium. "When you see someone spin records, they're taking bits and pieces of any performance – classical, hip-hop, etc. In the era of software, it's all about compositional strategy."
Read the entire article at Philadelphia Daily News
Lascia un commento
You must be logged in to post a comment.