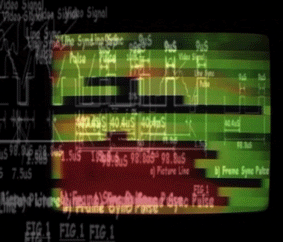 TV Remix by Philipp Rahlenbeck
Note: This announcement is archived for historical purposes.
Image source: http://fluctuating-images.de
Text source: http://www.netcells.net
Red Light Concert #10
TV Remix – Media criticism in real time
Philipp Rahlenbeck is jumping channels for us
Saturday, November 12, 2005, 8pm
fluctuating images, Jakobstr.3, 70182 Stuttgart
Recently, the BBC opened parts of their programme archive, as an opportunity for VJs to create video mixes out of footage from old documentaries on art, society, and nature. A special licence allowed free treatment of the images.
Philipp Rahlenbeck, media artist from Berlin, didn't wait around for that kind of offer. As soon as 2002, he created a live TV remix in collaboration with Timo Reuss, where he reshuffled the multitude of channels on an astra satellite through his own software programme for the 175th anniversary of the Kunstverein Württemberg. Rahlenbeck doesn't use prepared archive material for his mixes, but what's currently on air: where Fred Astaire meets soap opera, and football teams battle vs. ice hockey cracks. The whole TV landscape becomes an audiovisual collage from global white noise. This is an artificial and artistic condensation of our daily experience when zapping through channels.
"TV Remix" uses a sequencer software designed by the artist to optimize the editing and looping of audio and video material from a live source. The software can also operate "musically", using a bpm grid, a time and pitch shifter, and effect plug-ins.
Philipp Rahlenbeck works as VJ, DJ, and media artist. He's a member of Stuttgart's artist collective Mongomania (www.mongomania.com). While studying computing science he developed music software for Native Instruments and worked for the commercial media lab MESO. He creates diverse software solutions for audio and video performances.
The audiovisual concert series "Rotlichtkonzerte" are curated by Matthias Siegert (www.siegert.cc).
Lascia un commento
You must be logged in to post a comment.