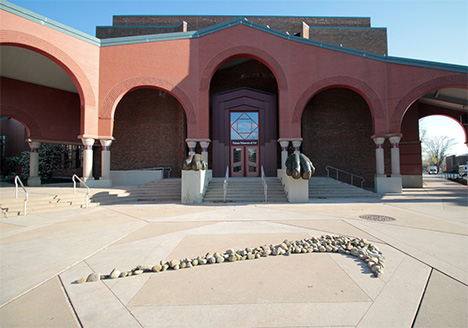 Image: Nike Swoosh installation in front of the Palmer Museum at Penn State.
Pau Figueres,Visiting Scholar in the School of Visual Arts (SoVA) at Penn State, installed a Nike swoosh composed of rocks in front of the Palmer Museum. It was a pleasure to host him and work with him in his research on remix and anti-consumerism during his Spring 2015 residency. A brief article of his installation and research was featured on the SoVA website. I quote part of it below:
During spring 2015, SoVA hosted Pau Figueres, a visiting scholar/artist from Bilbao, Spain. Pau was working on a project, Remix and Sampling of Mass Media and Advertising in Visual Art: Aesthetics and the Problematics of Anti-Consumerism Critique, with New Media faculty member Eduardo Navas. While here, as part of his research, Pau staged a temporary 'intervention' of an ephemeral art piece in the form of the iconic Nike 'swoosh' that was placed in the Palmer Museum of Art plaza. His temporary installation brought to mind the malleability of the power of the commercial icon—an inference about how pebbles are eroded from river flow, yet the stones also shape the course of the river.
[…]