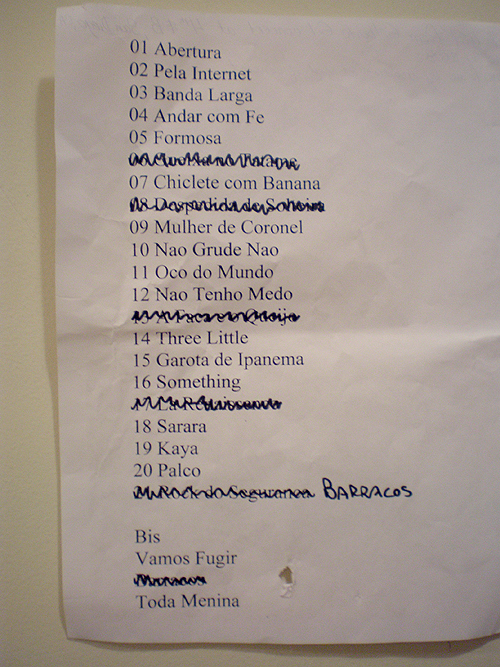 Image note: My partner, Annie, swiftly caught Gilberto Gil's concert song list as this one was about to be thrown by one of the roadies at the end of the show.
I attended Gilberto Gil's concert at the 4th & B in San Diego this past Monday. The turnout was quite impressive. I did not take my digital camera as I thought the audience was not allowed to take footage, but upon arriving, I noticed cameras everywhere; people were not hiding them and were using them freely, from cell-phones to small digital video-cams.
I later learned when reading an article in the Union Tribune that Gil actually promotes the recording of his concerts by the audience for later upload to video websites such as Youtube. Gil embraces new technologies as a way to communicate and spread his message, which as Brazil's Minister of Culture includes a sense of responsibility for Brazil's music history. It seems that Gil is fully in tune with Remix Culture.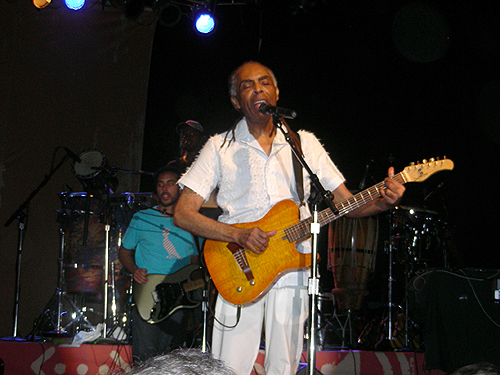 Image taken by Annie Mendoza
He delivered a two hour strong set which included original material as well as covers. The songs that stood out are three of perhaps the most recognizable songs in the world: "Three Little Birds" by Bob Marley, "Girl from Ipanema" by Antonio Carlos Jobim, and "Something" by the Beatles. He did a little twist on these songs to show the complexity of current global culture. "Three Little Birds" was played in Bossa Nova Style, "Girl from Ipanema" in Reggae, and "Something" was a fusion of both music genres.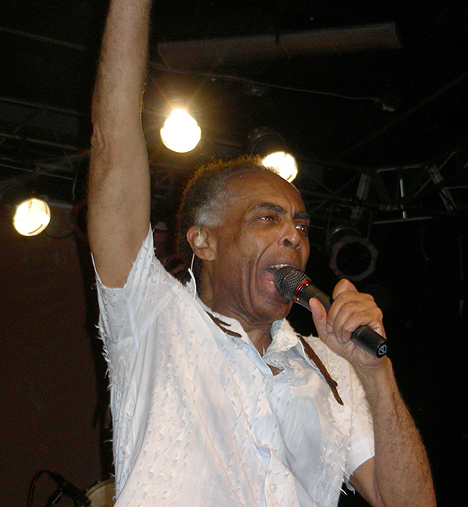 Image taken by Annie Mendoza
Below are a number of links to Gilberto Gil's concert in San Diego, so you can judge for yourself what a great performer Brazil's Minister of Culture is.
Three Little Birds:
http://youtube.com/watch?v=vis6r-vil-Y
Part 1:
http://youtube.com/watch?v=8UTrYbx09M4
Part 2:
http://youtube.com/watch?v=hqzN7GWXnhc
Part 3:
http://youtube.com/watch?v=1XCFKF5C9_Y
General links of San Diego concert:
http://youtube.com/results?search_query=
gilberto+gil+san+diego&search_type=&aq=f